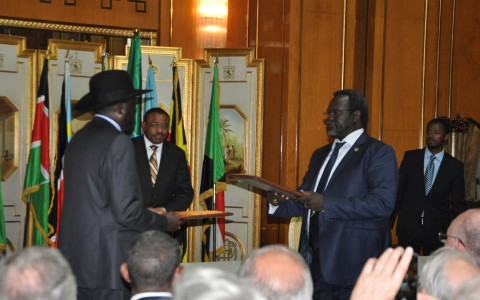 Rebels in south Sudan have questioned the government's determination to end the war just few hours after signing an agreement to end hostilities between them.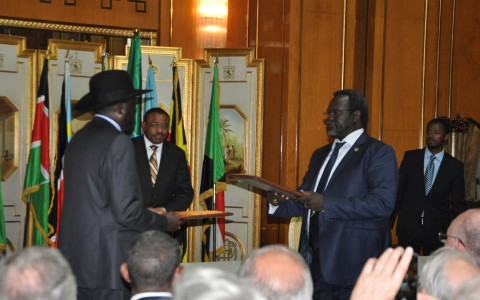 President Salva Kiir and rebels' leader Rief Machar signed Saturday at the end of a two day meeting in Addis-Ababa an agreement providing for "unconditional, complete and immediate end to all hostilities." Under the agreement, the two sides are to withdraw their forces, protect civilians, and allow humanitarian aid and the monitoring of a ceasefire.
South Sudan is the world's youngest country but celebrations have been short-lived because of violence between rebels and government forces.

The rebels' spokesman Lul Ruai Koang claimed that government forces attacked their positions near the oil-rich northern town of Bentiu shortly after the conclusion of the agreement in Ethiopia on Saturday.

The South Sudanese government minister, Michael Makuei, said "the cessation of hostilities will begin to be operational today" and reiterated the government's commitment to end the war.

Ruai Koang expressed doubts as to the government's intentions and wondered whether it will respect the agreement. "To be honest, I'm not confident" because "the problem in the past was that we have been dealing with an unfaithful partner." He added that the latest agreement will be "a litmus test for the government forces to know whether they are serious or
wasting time."

Minister Makuei said Juba is determined to end the 11-month civil war. "I don't know about the other side, but on our side we are very committed to the cessation of hostilities."
Since South Sudan's independence, fighting between the rebels and government forces has left tens of thousands dead, forced almost two million from their homes and famine is threatening the livelihood of many.