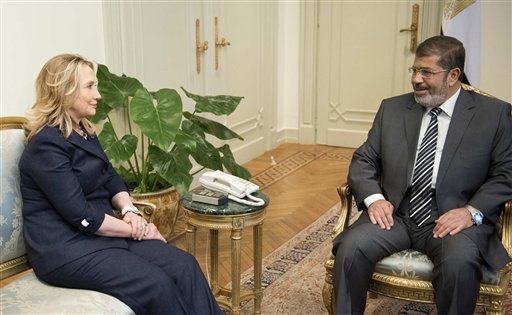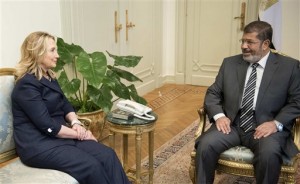 Cairo has swept away fears as to the fate of the Egyptian-Israeli peace treaty when newly elected President Mohamed Morsi reaffirmed during talks with US secretary of State Hillary Clinton his country's support to this treaty, signed in 1979, and that the United States deem as a cornerstone of regional security.
Israelis as well as Washington were deeply worried that Egypt's first democratically elected president, who emerged out of the Islamist Muslim Brotherhood, might seek to renegotiate the treaty.
The Israeli leaders, including President Shimon Peres and Prime Minister Benjamin Netanyahu, who were alarmed by the coming to power of Islamists in several Arab countries, expressed their fears to Clinton and stressed the need to safeguard peace with Egypt, all the more so as the Iranian threat is becoming more and more stressful to Tel Aviv.
Clinton, who is well aware of Israel's stakes in Egypt's commitment to the Egyptian-Israeli treaty of peace, reassured Israel that her interlocutors in Cairo had reaffirmed support for the peace treaty.
Before going to Israel Monday, Clinton visited Egypt over the weekend where she met with President Morsi and military leader Field Marshall Hussein Tantawi. She also met with Palestinian Prime Minister Salam Fayyad, after talks with Palestinian president Mahmoud Abbas in Paris on July 6, at the start of her 12-day, eight-nation tour in the Middle East, Asia and Europe.
Although she was keen on reassuring the Israelis, Clinton admitted that the region was going through "a phase of uncertainty" and stressed the imperative necessity to get ready for any changes that may occur in the region.
"We are called to be skillful, creative and brave", she said at the meeting with Shimon Peres, in what seemed just another in a long procession of appeals to Israeli leaders to be more "creative and brave" regarding the peace negotiations with the Palestinians.
The Israeli-Palestinian conflict remains at the core of the crisis in the Middle East, as direct Israeli-Palestinian peace negotiations have been on hold since late September 2010 following an intractable dispute over Israeli settlements in territories occupied in 1967.
The Palestinians are demanding that Israel halt construction on land they want for a future state and accept a framework for talks on borders. But Israel wants immediate return to talks without preconditions.
The United States has sought so far to bring the two sides closer together but in vain.
Hillary Clinton also raised during her talks with both Egyptian and Israeli leaders the security problem in the Sinai, warning that the desert border between Israel and Egypt could become an "operational base" for jihadists if security is not maintained.