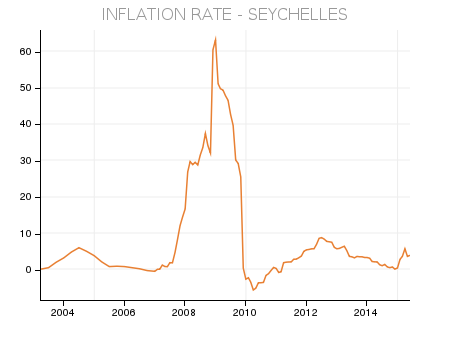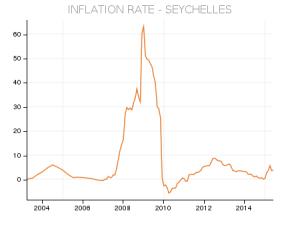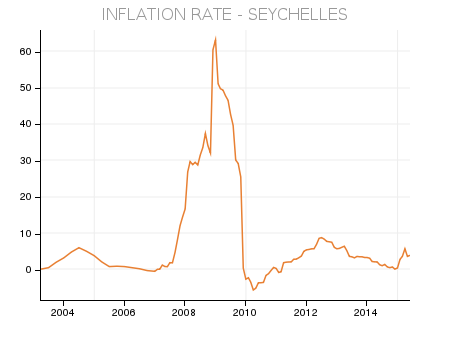 Seychelles' inflation rose to 4.3 percent year-on-year in June from 4.0 percent a month earlier, official data showed on Wednesday.
Month-on-month inflation stood at 0.5 percent in June from -0.1 percent in May, the National Bureau of Statistics said. But in these conditions, Seychelles Tourism Board forecasts closing the year with 5% growth.
In an interview to the state owned news agency on Tuesday,  Benjamine Willemin, the Seychelles Tourism Board Director for Europe said "Europe's sign of positive growth for Seychelles is a clear indication that we should continue to invest and ensure we continue to be visible at all times to get our fair share of the cake".
 With tourism arrival recovery taking hold for the past five years (2011- 2015) on the European market, which brought a 63% market share to Seychelles, the Seychelles Tourism Board took stock of "substantial market lose" in the Russia/CIS with -23%. The Seychelles Tourism Board said despite the decrease in arrivals, Russia still remains a "major source tourism market for Seychelles."
On June 17, the Executive Board of the International Monetary Fund (IMF) concluded in a report that the country's macroeconomic outcomes remain solid, and most of the external pressures experienced in 2014 have abated. Weakness in the main exports combined with strong domestic demand in 2014 led to depreciation pressures on the exchange rate.