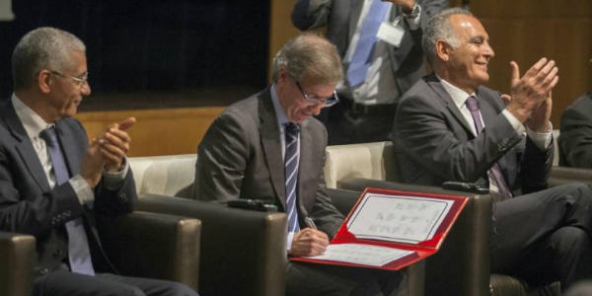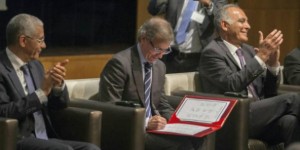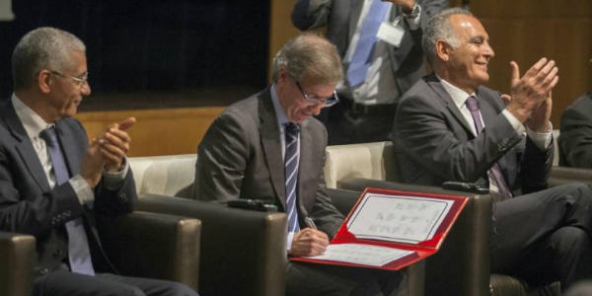 Skhirat dialogue agreement between Libyan political rivals achieved a breakthrough on Sunday as all delegates except the General National Congress (GNC) inked the Bernardino-proposed draft which will pave the way for the forming of a national unity government and putting an end to the political crisis.
The draft won the approval of most Libyan political players except the GNC delegates who boycotted the meeting in Morocco after their demands for amendment of the draft were turned down by the UN envoy Leon Bernardino.
Mayors and municipal representatives including those from Misrata, Central Tripoli, Sebha, Ajdabiya, Emsalata and Zliten, as well as party political figures such as Mohamed Sawan, the leader of the Justice and Construction Party, and Hafez Ghaddour Hafez (the former Libyan ambassador in Rome) for the National Forces Alliance also signed as witnesses to the draft initialling.
The signing of the draft will also pave the way for the appointment of a Prime Minister and his deputies and the appointment of a cabinet which will be tasked with pondering over the key issues crippling the oil rich North African country.
Bernardino Leon hailed the signatories for their courage, commitment and determination. He also said initialling the draft "would allow Libya to complete the revolution by building common ground and reconciling a range of diverse interests".
Bernardino also indicated that the initialled draft lays the foundation for "a modern, democratic state based on the principles of inclusion, the rule of law, separation of powers and respect for human rights"
GNC delegates rejected the draft and failed to turn up in Morocco to initial the draft.
Bernardino called on the GNC delegates to consider the national interest of Libya and heed the call for peace of Libyan people to come back and also ink the draft.
"No text can be perfect," he said.
He also indicated that in the weeks ahead he would meet with delegates opposed to the draft to address contentious issues.
"In the weeks ahead we will clarify the issues that remain contentious and address the outstanding concerns."
The initialling of the draft was lauded by foreign ambassadors to Libya including Canada, the EU, France, Germany, Italy, Morocco, Portugal, Russia, Spain, Turkey, the UK and the US. In a statement, they welcomed the approved draft but however warned that it would be necessary to take appropriate action against those who tried to stop the Dialogue process from moving ahead to force them to change their minds.