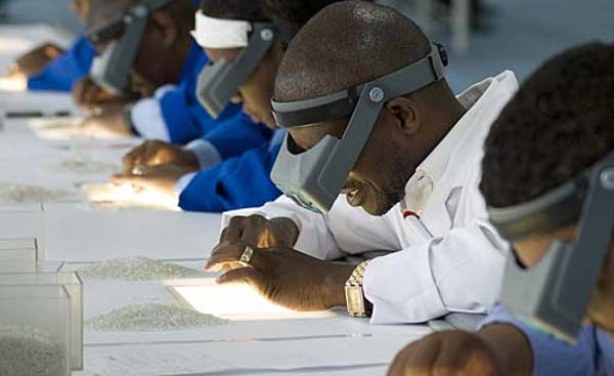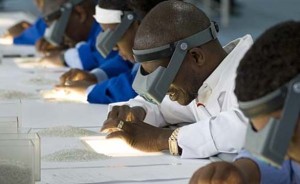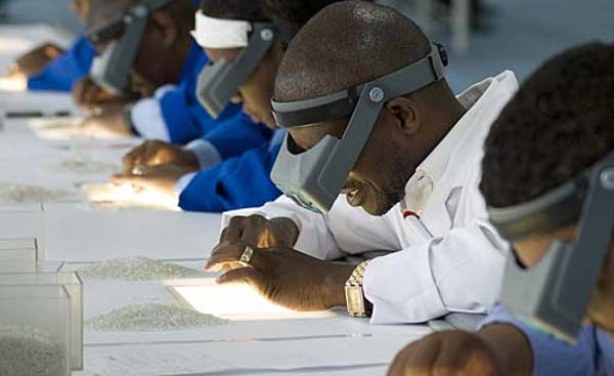 The value of rough diamonds exports from Botswana's mines fell 15 percent in the first six months of the year 2015 to $1.7 billion, official data showed on Tuesday.
Like oil-exporting countries now mired in deficits because their annual budgets were predicated on oil priced at $100 a barrel that's now well below $50, Botswana faces a similar conundrum created by a drop in the sale and prices of its rough diamonds.
According to the official data, the country's diamond output slid 4 percent to 12 million carats in the first six months of this year.
Diamonds account for about 30 percent of the country's gross domestic product (GDP), 80 percent of exports and 40 percent of the entire government's revenues.
Botswana, the world's biggest diamond producer, cut its 2015 economic-growth forecast by almost half because of an expected decline in demand for the precious stones.
The southern African nation now forecasts expansion at 2.6 percent, the Finance Ministry said in a 2016-17 budget document. That compares with a projection of 4.9 percent announced by the government in February.
"The downside risk to these projections continues to be the country's high dependence on diamonds, whose demand and prices are subject to global fluctuations," the ministry wrote in a 2016/17 budget-strategy paper published September 11.
The treasury also revised its budget to post a deficit as a percentage of GDP to 1.1 percent for fiscal year 2015/16 rather than the surplus initially touted.
Diamonds mined by Debswana Diamond Co. Ltd., a government joint venture with Anglo American Plc's De Beers unit, have helped transform the southern African nation from a poor, cattle-ranching society into the ranks of upper-middle income nations.