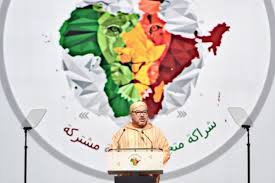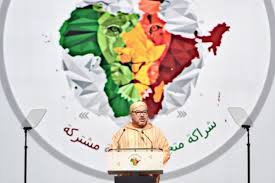 King Mohammed VI has reaffirmed that Africa does not need assistance but rather a mutually beneficial partnership that is likely to unleash its huge potential and help it promote its human and social development and insisted that Africa should learn to trust Africa.
This came in the much awaited speech that King Mohammed VI made on Thursday before the third India-Africa Forum Summit held in New Delhi.
The King, one of the leading African figures attending the Summit, urged South countries to build up trust among themselves and to support each other to break the status quo and supremacy of world powers.
Given the new trends and current demands, South countries should invest their potentials and wealth in the shared progress of their peoples in order to join the ranks of emerging countries.
"Just as, on an earlier occasion, I pointed out that Africa should learn to trust Africa, today, from this rostrum, I would like to call upon the countries of the South to trust themselves and to invest their assets and skills in the pursuit of shared progress for their peoples and thus catch up with emerging countries," King Mohammed VI said, adding that Africa has taken part in a number of bilateral and continental cooperation forums which are quite useful. However, he said, some of them suffer from overlapping and imbalance, which often result in a lack of commitment and affect their efficiency.
"As I indicated in my address in Abidjan, Africa does not need assistance as much as it needs mutually beneficial partnerships as well as human and social projects," He went on to say, insisting that "today, Africa deserves fair partnerships, rather than unbalanced relationships and conditional support."
Stressing the responsibility of African leaders in securing a bright future for their peoples, the King of Morocco urged African countries to "continue to work together and uphold the principle of solidarity in order to serve their interests," otherwise, he warned, "We will, once again, miss a historic opportunity."
Touching on Moroccan-Indian cooperation, the King said that "Morocco looks forward to launching joint initiatives with India, within the framework of this Forum, in areas which are a priority for our peoples and in which our two countries have gained extensive expertise."
As an example of partnership between the two countries that he described as "fruitful", he mentioned their cooperation in the field of phosphates and their derivatives, stressing the need to expand this partnership to food security programs, agriculture, the pharmaceutical industry, research in science and technology and the training of managerial staff.
He insisted that both countries should make sure they build on that experience to serve African peoples and put their know-how at the disposal of African countries.
He pointed out in this vein that the third India-Africa Forum Summit provides an opportunity to assess South-South cooperation, which is, he said, "the cornerstone of the African-Indian partnership."
"The Forum should serve as a platform to lay the foundations for an efficient, solidarity-based, multidimensional South-South cooperation model, through which we can make optimal use of the resources and potential available in our countries," said King Mohammed VI stressing the need to "turn the page on the legacy of the past and seek to serve our countries' strategic interests."
"The South-South cooperation we are yearning for is neither a mere slogan nor a political luxury. This is a pressing need, given the scale of the challenges faced."
The Moroccan sovereign who stated that conventional patterns of cooperation can "no longer help us respond to the growing needs of our peoples," renewed his country's determination "to carry out tangible projects, both at the bilateral level and within the framework of triangular cooperation, in productive areas which boost development, create jobs and have a direct impact on the citizens' lives."
Morocco's growing diversified partnerships with a number of African states in the area of human development as well as in various social, economic and religious fields clearly illustrate this policy, he said adding that "this has enabled our country to become the top African investor in West Africa and the second biggest in the continent."
Many analysts consider that the multi-dimensional cooperation binding Morocco and several African countries, mainly in West and Central Africa, and its strong trade partnership with India, actually position the North African country as a platform for cooperation and solidarity between the African continent and the Indian sub-continent.
This is all the more true as King Mohammed VI reaffirmed before the India-Africa summit, that he firmly believes that "the promising African-Indian partnership can grow and prosper thanks to the complementary nature of our resources and skills, and thus help us achieve our objectives and serve our peoples."