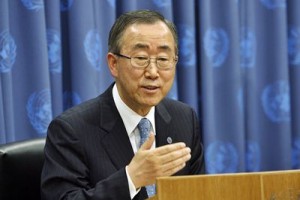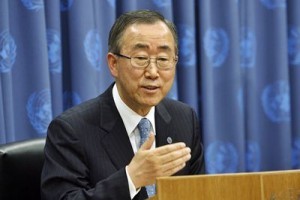 UN Secretary-General Ban Ki-moon on Monday said deploying peacekeepers to Burundi was an option to quell the violence but recommended that a UN team be first sent to help bolster dialogue.
Hundreds of people have been killed and tens of thousands have fled the African state during months of violence that began when President Pierre Nkurunziza decided in April to run for a third term. He won a disputed election in July.
Ban laid out three options to address the crisis in the central African country where at least 200,000 people have fled growing political violence.
Among those options was setting up a special political mission to monitor human rights, support dialogue and lay the groundwork for a possible peacekeeping operation.
"Violence in Burundi has reached alarming levels," Ban said in the letter to the 15-member council, which has adopted a resolution calling for measures to prevent mass atrocities in Burundi.
According to Ban, "launching a dialogue must be the absolute priority while we continue to find ways, with our partners in the region, to stop the deterioration of the security situation and prevent massive violence and a possible full-blown war."
Ban also recommended the council "review the mandate of the United Nations presence as the situation on the ground evolves."
"Burundi stands on the brink of another armed conflict that could unravel years of painstaking work to consolidate and preserve peace and have potentially disastrous effects in an already fragile region," he said.
But Britain's U.N. Ambassador Matthew Rycroft, the council's president for November, said the Nov. 12 resolution already authorized a support team and the council debate should be about what it does "on top of" the support team.
"I don't think that should be seen as a new option," Rycroft said.
Burundi ended a 12-year civil war between Hutu rebels and a Tutsi-led army in 2005.