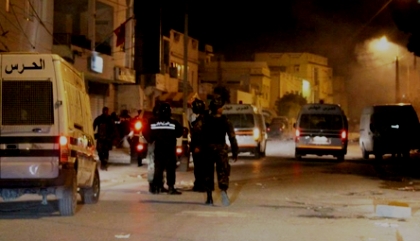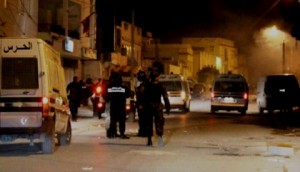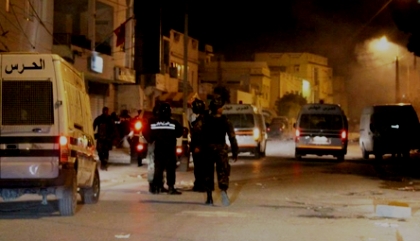 The Tunisian government held an emergency meeting Wednesday to address the social protests that began in Kasserine on Saturday and spread to other cities including capital Tunis, and several other regions.
Some 19 security forces have been reported injured in clashes with protestors, led by unemployed youth.
The cabinet meeting made a series of decisions to defuse the tension. These include the hiring of 5,000 unemployed part of various employment programs, the financing of 500 projects by the Tunisian Solidarity Bank for an amount of $2.6 million, and the creation of a national committee to investigate corruption cases reported in the governorate of Kasserine.
The cabinet also decided to transfer all collective lands in the region to private owners before late March, 2016, to create 9 construction sites for improving quality of roads and bridges, with a capital of $66,000 for the higher education graduates, and to earmark around $60 million for building 1,000 social housing units and developing 1,000 plots of land in 2016.
The cabinet adopted other measures to improve health services in the governorate.
Protesters are mainly demanding jobs as the country continues to have a high unemployment rate with figures reported to have jumped to 15.3% by the end of last year from 12% in 2010. Around 33% of the country's unemployed are university graduates.
The cabinet emergency meeting took place without Prime Minister Habid Essid who is participating in Davos forum.
President Beji Caid Essebsi on an official trip to Australia said he condoned the protests which he argues are in line with the constitution but regretted media's machinery trying to over blow them.
"Though legitimate, these protests must not be amplified," he said at a joint press conference with Australia's President Heinz Fischer.
Essebsi also indicated that his regime inherited "a difficult situation marked by a high unemployment rate, particularly among university graduates, the persistent problem of poverty in interior regions and regional inequalities."