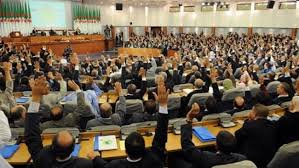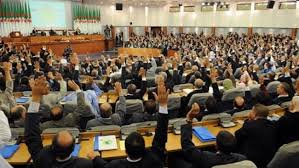 Algerian Prime Minister Abdelmalek Sellal presented the draft revised constitution to the expanded joint parliamentary committee saying that the country had "reached a turning point" and the adoption of the draft will mark the beginning of "a new era with strong republican reform."
The two houses of the Parliament will vote on the draft in an extraordinary session on Sunday without any amendments. Chairman of the joint committee Djamel Ould Abbes explained that proposed amendments, to be made only by heads of parliamentary groups, would be included in the constitution implementation laws.
The draft had earlier been approved by the country's Constitutional Council.
Chairman Ould Abbes said the expanded joint committee was meant to enable many members of the two houses to "express their opinion on the draft" but urged them to "speed up the drafting of new laws" if the constitution is adopted.
The revision of the constitution was decided in the height of the Arab Spring in response to demonstrations calling for political and social reforms.
Critics such as the main opposition groups with secular or Islamist tendencies tagged the constitution as "readymade" and boycotted consultation meetings with the drafting team arguing that the constitution must be adopted by a referendum and not by the parliament.
In an attempt to reassure the opposition, Prime Minister Sellal said the revision would help enshrine pluralist democracy and uphold democratic alternation through elections. He insisted that the new text upholds the general principles that run the society and protect human rights, and will not affect in any way the fundamental balance of powers.