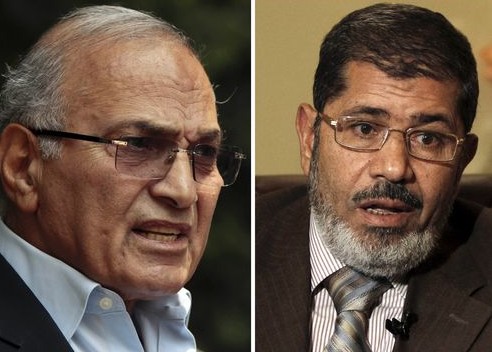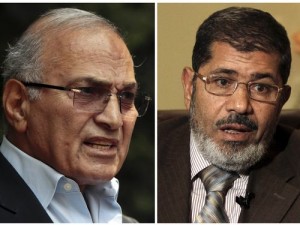 Egyptian voters went to the polls in May for the first presidential elections in the country's modern history but failed to produce a decisive winner. Instead they sent to the second round two finalists, with completely distinct backgrounds: Islamist Mohamed Morsi, the candidate of the Muslim brotherhood, and Ahmed Shafiq, a former air force commander and Hosni Mubarak's last Prime Minister.
Egyptian voters are now in a dilemma. No one of the two candidates meets the expectations of a clear-cut majority of Egyptians and the choice left to voters, as some analysts view it, is between two evil options: a religious dictatorship and a military dictatorship.
For some analysts, if elected, Mohamed Morsi, despite his vows to be tolerant, may drive Egypt years backwards in terms of modernization and individual freedoms and harm an already traumatized economy as investors and tourists will be scared away by the Islamists-imposed codes and go somewhere else to inject or spend their money.
Ahmed Shafiq, who was prime minister in Mubarak's last days in power, perfectly embodies the former repressive apparatus and his election would mean for many Egyptians, and especially Egypt's revolutionaries, the return of the former regime and the former ruling National Democratic Party (NDP) under a new cover.
The revolutionaries' rejection of Shafiq and their outrage were exacerbated after the Saturday verdict sparing Mubarak the death penalty. The sentence handed to him is short of the Egyptians' expectations, as the revolution victims' relatives and the majority of the people want capital punishment for Mubarak and all his accomplices.
For many Egyptians, the verdict was too lenient and confirms the old regime is still living on. They also fear that if Shafiq is elected, he may pardon Mubarak.
Whatever the outcome of the second round, slated for June 16 and 17, many fear that the deadlock will not end.
Meanwhile, voters are in a dilemma, wondering if they will hand over Egypt to a representative of the former regime or give the power to the Muslim brotherhood. As none of the two candidates seems able to make a big difference for Egyptians' social and political struggle, the boycott option is creeping in more and more persistently in people's minds.

So, the winner of the coming round may probably be the Boycott.