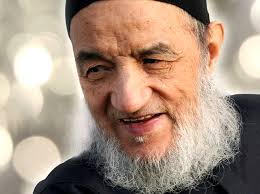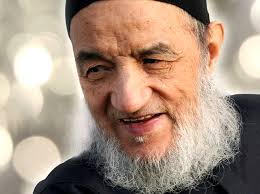 The leader of Al Adl Wal Ihssan or Justice and Charity movement, Mohamed Abbadi, has recently made a statement reminiscent of the speech of the terrorist Islamic State group prompting analysts to wonder whether the organization has changed course towards a path more prone to violence.
Abbadi has actually hailed the Caliphate system, upheld by ISIS, and said that those opposing the system deserve beheading. Such a statement made during a meeting of the organization and posted later on its website "ashahid", gives you goose bumps.
In his speech, Mohamed Abbadi stood as the defense attorney of the terrorist "Islamic State" group saying that the group was "defending the causes and interests of Muslims."
Moroccans of all walks of life, several activists and local media expressed dismay and indignation at this change of discourse and at these incomprehensible statements reminiscent of the dark ages.
Some commentators explained these statements as a deviation from the ideology long upheld by the movement under the chairmanship of its founder, late Sheikh Abdessalam Yassine, who passed away in 2012. Others saw in this a covert support for ISIS which is losing ground in Syria and Iraq.
London-based "Al-Arab" newspaper pointed out in a column on Abbadi's remarks published Tuesday that the Islamist movement, which is not recognized by the Moroccan State, has managed to lure some Western intelligence agencies, mainly the US and British, that it is a "political mysticism-inspired group" that can be a potential force for democratization and for deterring terrorism in North Africa and Europe.
These Western agencies have even called Moroccan authorities to legalize the group, overlooking the fact that the movement in Europe was the channel through which extremists could easily access mosques and impose their doctrines, mainly in Germany and France.
According to "Al-Arab", members of the group have strived over the past four years to dominate mosques frequented by Maghreb communities and concluded deals to hand over the shrines to extremist groups from the Middle East.
In this vein, the publication imputes ISIS growing influence in Europe over the recent years to the Justice and Charity group which has been promoting the caliphate idea. This discourse prompted many Europeans of Maghreb origin to pay allegiance to DAECH and to Abu Bakr al-Baghdadi, defender of a global caliphate, "Al-Arab" argued.
In any case, Abbadi's statements, drawn from ISIS repository, underlie a dangerous twist in the ideology of the politico-religious group, and require a vigorous response on the part of all components of the Moroccan society. Who can guarantee that Abbadi's statements are mere words that can't be translated into deeds?