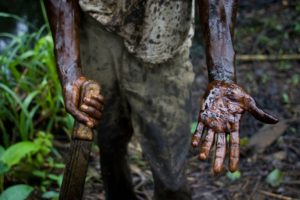 Nigerian president Muhammadu Buhari on Thursday cancelled a visit to the oil-producing Niger Delta, hit by a series of militant attacks on oil and gas pipelines.
The West-African nation's Vice President Yemi Osinbajo will instead visit the restive southern region to launch a cleanup program of the Ogoniland, local media reported.
The clean-up estimated to cost about $1 billion would seek to sanitize the creeks, swamps, fishing grounds and mangroves that have been destroyed by oil spills from multinational giant Shell, the country's oil producer and other private firms.
The Niger Delta Avengers (NDA,) which carried out a series of crippling attacks on oil pipelines and facilities in the region, issued a statement ahead of Buhari's visit, warning companies based in the region that "it's going to be bloody this time around."
Buhari vowed that he was ready to engage with leaders in the region, which also saw a sustained period of militancy in the mid-2000s led by armed groups protesting what they saw as the unfair distribution of Nigeria's oil wealth.
The Nigerian president said that the recent attacks would not distract his government and that security forces would "apprehend the perpetrators and their sponsors and bring them to justice."
Because of the upsurge in attacks, Nigeria's oil production decreased by 800,000 bpd to around 1.4 million bpd, dropping the country behind Angola as the continent's largest oil producer.