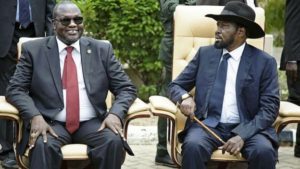 South Sudanese President Salva Kiir on Thursday called on his rival, Vice President Riek Machar, to return to the capital Juba, to revive the peace process.
"I call on Riek Machar to return to Juba for us to continue the implementation of the peace agreement. As you know, this agreement needs us both for it to be applied," Kiir said in a statement.
President Kiir stressed that he is "waiting for a response within 48 hours so that we can establish contact and continue to promote peace."
President Salva Kiir and former rebel leader and now First Vice President Machar signed a peace deal in August that paved the way for the formation of the transitional unity government to end more than two years of civil conflict.
However, Vice president Riek Machar left Juba a week ago after deadly fighting between his troops and those of Kiir. The violence, which left at least 300 dead, threatened the fragile peace agreement.
"The country needs peace and the country needs everyone's efforts. But if someone decides not to return to Juba to implement the peace process, I would say that the SPLM-IO (former rebel group) is a great movement and not a person, and that its leaders decided to continue the implementation of the agreement," Taban Deng Gay, the Minister of Mines in the unity government stressed.
The U.N. Security Council has voted to renew sanctions on a number of individuals allegedly obstructing a peace agreement in South Sudan, where tens of thousands of people have been killed and millions displaced by over two years of fighting between the government and rebels.