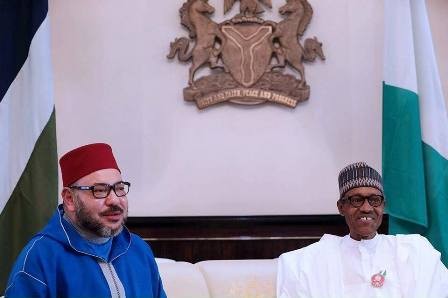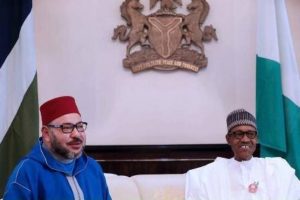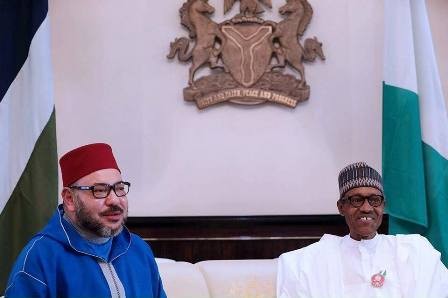 Morocco and Nigeria have expressed "deep concern over the persisting security threat particularly in the Sahel region", says a joint statement issued following the official visit King Mohammed VI paid to Nigeria Dec. 1-3.
During the visit, part of a royal African tour, the Moroccan Sovereign and President Muhammadu Buhari held "in a friendly and brotherly atmosphere" bilateral talks during which the two leaders renewed their firm condemnation of terrorism in all its forms.
They also voiced their shared commitment to combat terrorism and violent extremism through a comprehensive, inclusive and multi-dimensional approach, says the joint statement.
King Mohammed VI commended the leadership role of Nigeria in West Africa and Africa as a whole, adds the document. The Moroccan Monarch also congratulated President Muhammadu Buhari for the successes scored in the fight against the Boko Haram terrorist group and pledged the full and active support of Morocco to Nigeria in its efforts to eradicate Boko Haram terror activities in Nigeria and neighboring countries, underlines the joint communiqué.
For his part, President Buhari paid tribute to the Moroccan King for his vision for peace and security, stability and socio-economic development in Morocco and in the rest of Africa as well, says the document.
The Nigerian President commended the Moroccan Monarch for his efforts at bringing about better understanding of Islam through the establishment of Institutions benefitting African Muslim Scholars and Ulemas, including Nigerians.
Regarding bilateral relations, King Mohammed VI and President Buhari expressed their determination to boost partnership within the frame of South-South cooperation serving Africa's development.
They showed their strong will to lift up cooperation to higher levels as they presided over in person the signing of an agreement between Moroccan Phosphates Office (OCP) and Dangote Group to build a fertilizer production complex in Nigeria.
The two Heads of State vowed to support projects aimed at promoting the socio-economic development of the continent, stressing the need to speed up the implementation of the Trans-African Tangiers-Lagos Highway.
They also announced a giant gas pipeline project to link Nigeria and Morocco via a number of African countries, highlighting the major positive economic impacts of such a project on all countries to be crossed by this landmark undertaking.
Several other cooperation agreements and memoranda of understanding were signed during the royal visit. These agreements deal with partnership projects in agriculture, transports, port, energy, finance, banking/insurance, culture, tourism. One of the agreements provides for visa waiver for diplomatic, official and service passport holders.
The two African Heads of State called for the re-activation of the Nigeria-Morocco Joint Commission and urged the economic operators to explore business and investment opportunities offered in the two countries.
Regarding Morocco's bid to rejoin the African Union, the joint statement says Nigerian President is "happy to learn of Morocco's wish to be readmitted into the African Union".