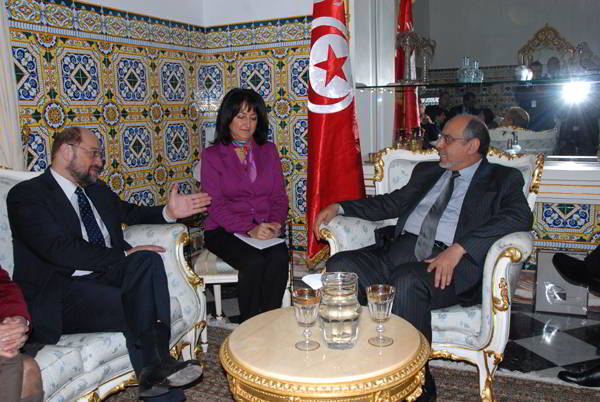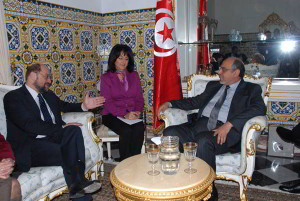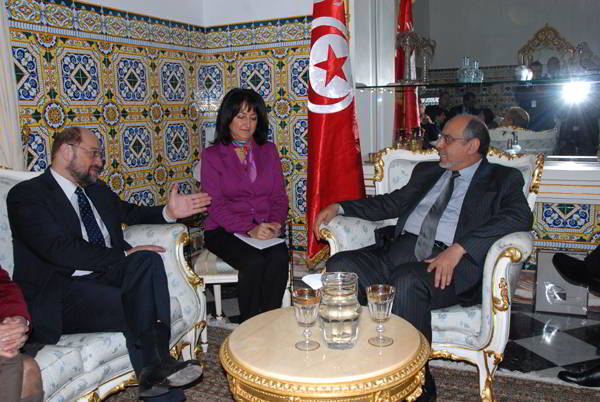 The head of the European Union parliament, Martin Schultz who is presently on an official visit to Tunisia said it seems as if  Tunisia is "desperately" seeking closer economic cooperation with Europe after the toppling of its autocratic regime two years ago. He said the country is facing a critical situation after having achieved the ambitions of the revolution which was a regime change but the economy is still being dragged as it continues to lag behind. He said the revolution failed to uplift living standards.
Speaking to reports after holding discussions with Hamadi Jebali, the Head of the European Union parliament said he has the impression that the Tunisian authorities "are desperately seeking the economic cooperation that they need to develop their growth potential." He went onto say that "we as Europeans must understand that our economic cooperation with Tunisia should be much stronger," Schultz said, adding that the country was a key ally for Europe, as it sought to preserve its "Islamic traditions in a pluralist society."
Hamadi Jebali didn't shy away from the reality. He said that the government is aware of the pressure in the country," and the "enormous" expectations of the people. The frustration of the citizens was showcased when President Moncef Marzouki was pelted with stones during a visit on Monday to Sidi Bouzid, the marginalized central town where the mass protests first erupted that led to the overthrow of veteran dictator Zine El Abidine Ben Ali.
Angry protests have multiplied across Tunisia in recent months, often degenerating into violence, over the government's failure to provide jobs and economic development, key factors behind the revolution that began on December 17, 2010. The government is also being pressured by syndicates.