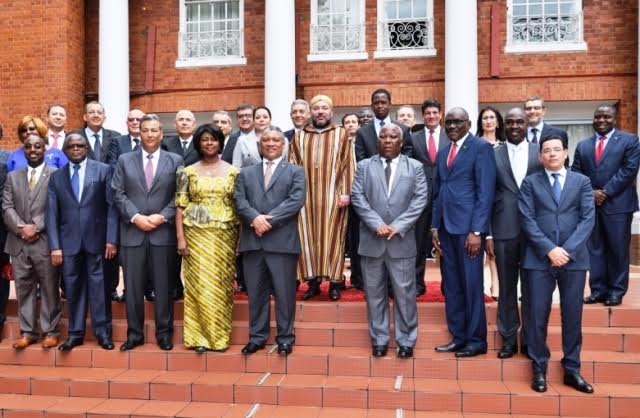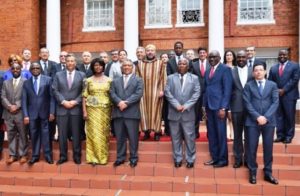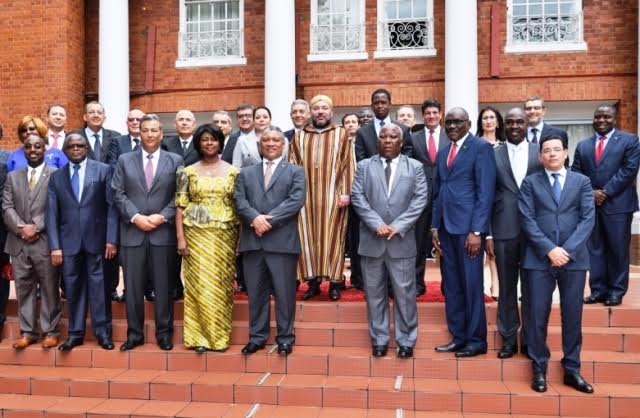 King Mohammed VI of Morocco who started Sunday a historic visit to Zambia, the first ever by the Sovereign to the Southern Africa country, on Monday held private talks with Zambian President Edgar Lungu at State House.
The two heads of state later on co-chaired the signing ceremony of 19 governmental and economic partnership agreements. Eight of the agreements are between the two governments, while the remaining eleven are between the two countries' private sectors.
Some of the highlights from the package of agreements include the opening up of the airspace between the two countries that will see Moroccan planes landing in Zambia, the Zambia National Broadcasting Corporation reported.
Besides a general economic, scientific, technical and cultural cooperation agreement, the two countries signed a memorandum of understanding on the establishment of a mechanism for political consultations and an agreement on investment promotion and reciprocal protection.
Another accord institutes cooperation between Zesco Limited and Moroccan energy giant Masen for the development of renewable energy Projects in Zambia. The Zambian mining ministry and Morocco's office for hydrocarbons and mining (ONHYM) also signed a memorandum of understanding.
Other areas covered by the cooperation accords include tourism, education and agriculture.
The royal visit was preceded on Saturday by a Moroccan-Zambian Business Forum that gathered heads of several companies that all convened as to the need to increase contacts between business communities, share experience and know-how and thus lay new economic bridges between Morocco and Zambia.
President of the Zambian Federation of Employers, Tyson Bruno Chisambo, and President of the General Confederation of Moroccan Companies (CGEM), Miriem Bensalah Chaqroun, have both underscored the crucial role the private sector plays in consolidating bilateral and multilateral economic cooperation.
"We have a responsibility to develop our countries and our continent and we must do it hand in hand. Our goal is to make investments, create joint ventures, generate local jobs and share wealth," The CGEM President said.
They both were upbeat as to prospects of a stronger Moroccan-Zambian economic cooperation. Actually, cooperation prospects are positive because both countries enjoy political stability and have geostrategic locations in their respective regions.
In addition to that, Morocco is party to FTAs with several countries, while Zambia is member of the Southern African Development Community (SADC) and Common Market for Eastern and Southern Africa (COMESA), which establish free trade agreements between their member states.
In this vein, Zambian Minister of Trade and Industry Margaret D. Mwanakatwe stressed that the Zambian government is continuously working to foster the business climate and strengthen the competitiveness of the national economy on the regional and international markets.
The Trade Minister noted that Zambia's economic outlook is positive, with a projected growth rate of 3.2 pc for 2017 and inflation curbed to below 9 pc for the same period.
Zambia, which depended for years on the mining sector, notably copper, embarked on the diversification of its economy and developed new sectors of activity, namely in engineering and high-tech products, energy, including oil exploration, agriculture and agro-processing, information and communication technology, infrastructure development, and manufacturing.
According to the World Bank forecasts released Monday, Zambia's economy will grow to 4 percent in 2017 and 4.2 percent in 2018, while the government forecasts put growth at 3.4 percent this year from around 3 percent last year due to low copper prices, power shortages, inflation and a government cash crunch that restricted investment in the African nation.
Despite the good news there are still people in the southern area facing food insecurity, as they –unlike much of the country- got hit by a second round of El Niño dryness, but the Government asserts humanitarian support is being provided.
Recently, the government announced plans to build a 750 MW hydropower plant to ease the pressure on existing power stations.
Before coming to Zambia, King Mohammed VI visited Ghana where he conferred with President Nana Addo Dankwa Akufo-Addo and co-presided with him the signing ceremony of 25 cooperation agreements.
About two weeks earlier, the Moroccan Sovereign had paid his first visit to South Sudan and met with president Salva Kiir Mayardit. This visit was crowned by the signing of nine cooperation agreements.
All these visits fall in Morocco's strategy, spearheaded by King Mohammed VI who prioritized Africa in his foreign policy, and are part of a momentum to extend Morocco's cooperation model to the English-speaking African countries and to foster African integration.