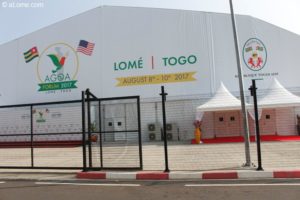 African Growth and Opportunity Act (AGOA) free trade deal forum ended in Togo's Capital Lomé on Thursday with no significant change to the deal.
The annual forum, which is a platform for promoting stronger economic ties between the United States and qualifying sub-Saharan African countries that receive enhanced US market access under AGOA, ended with no major decision.
According to Peter Barlerin, Deputy Assistant Secretary in the Bureau of African Affairs, "the number of countries benefiting from AGOA is very limited, as is the number of sectors."
"We will see if the situation improves in the coming years, but it is also up to the beneficiary countries to enhance their business climate," he said.
AGOA provides non-reciprocal trade preferences for eligible countries in sub-Saharan Africa. It has been a cornerstone of US policy toward the continent for the last three administrations. The premise behind AGOA is that Africa has opportunities worth US attention and investment.
Bernadette Legzim-Balouki, Togo's trade minister, who presided over the meeting, said the United States and the nations eligible for AGOA had agreed on some loose aims, including: to develop a better plan to take full advantage of the pact, for each eligible country to have bilateral talks with the United States.
According to US State Department spokesman Brian Neubert, Washington has "very significant interests in Africa".
"There are opportunities for American investors in several sectors. For example in the energy sector — the opportunities are enormous. Also in agriculture," he told AFP.
As a reminder, the AGOA Act gives 39 African nations duty-free access to the US market for about 6,500 products including textiles, cars, fruit and wine.
US goods exported to Africa in 2016 were worth $22.3 billion in 2016. Washington imported $4.3 billion more from the continent, according to the US Census Bureau.