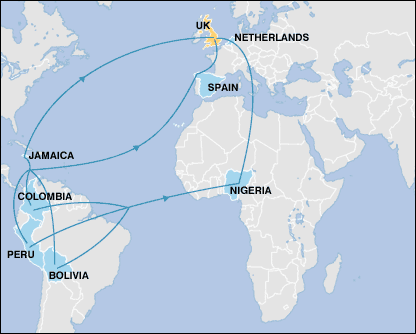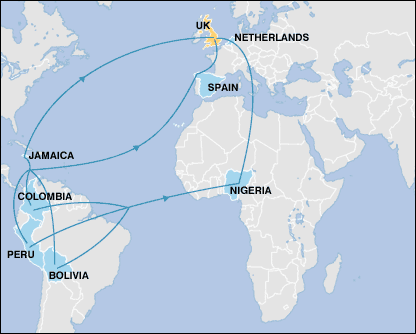 The European Union has launched a new €1.8 million worth project to contribute to fight money laundering and drug trafficking in four West African countries, namely Ghana, Nigeria, Senegal and Cape Verde.
The project will help law enforcement agencies to better investigate money laundering, and thereby fight organized crime, a EU press release said on Monday.
The project also seeks to increase regional cooperation among these countries which are part of the "Cocaine route", i.e. the route used by South American drug cartels to ship drugs into Europe, the release said.
"Drug trafficking is an international plague which needs to be addressed globally. This illegal trade provokes severe economic, social, political and public health consequences. In the European Union alone, 140 tonnes of cocaine are consumed each year. In affected West African countries, the massive money laundering, generated by these illegal profits, destabilizes whole economies, threatening both their development and their stability," said European Commissioner for Development, Andris Piebalgs.
"With this new project, we will provide training, technical support – to establish electronic databases or secure email for instance – to law enforcement agencies and foster cross-border exchanges among the public authorities," he added.
The €1.8 million worth anti-money laundering project is funded under the Instrument for Stability and part of the "Cocaine Route Programme". The aim of the program is to enhance the effectiveness of law enforcement and judicial services of the partner countries in the fight against international criminal networks, while fully respecting human rights.
The trans-regional Cocaine Route Programme started in 2009. Its activities cover 36 countries, of which half are in Africa (mainly West-Africa), five are in the Caribbean and the rest are in Latin and Central America. Since the start more than €23 million have been allocated to these activities.
According to the EU release, the West Africa region suffers from a lack of regulation of the non-financial sector, which plays an important role in the laundering of funds in cash based economies. There is also currently insufficient cooperation between the countries in the region, which is crucial to counter cross-border threats such as organised crime. In addition the law enforcement agencies often lack capacity and access to information.
The Instrument for Stability (IfS) is a strategic tool that links security and development. The main objective is to support measures aimed at safeguarding or re-establishing the conditions under which the partner countries of the EU can pursue their long term development goals. Since 2007 the EU has supported a number of projects to counter trans-regional organised crime and terrorism under the IfS.