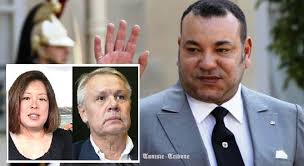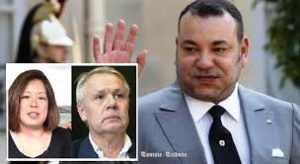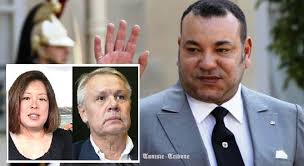 The Highest Court in France, the Court of Cassation, rejected on Friday an appeal to annul audio recordings implicating two French journalists, Eric Laurent and Catherine Graciet, who are being prosecuted for attempted extortion and blackmail against Morocco.
The Cassation Court has acknowledged in a ruling that cannot be appealed the validity of two recordings, presented by Morocco's attorney as a proof of the involvement of the two French journalists in the case of extortion and blackmail against Morocco.
The defendants' lawyers had submitted the petition to consider the audio recordings inadmissible, arguing that they were "illegal" and "undermined the principles of a fair trial and fairness of evidence".
The French Court of Cassation's ruling, issued Friday (November 10) at the end of a plenary hearing, declared that these two recordings had been made by an emissary of Rabat without the "actual implication" of the French investigators, allowing therefore to conclude to the "loyalty of the proof".
This ruling upholds the counter-plea presented by the Lawyer representing Morocco, who insisted that all the evidence against the blackmailers was obtained in a legal manner and in coordination with French authorities.
In the summer of 2015, the two French journalists had threatened to publish a supposedly compromising book on King Mohammed VI and his country, in exchange of money. They had set the amount at €3 million.
Morocco's attorney met the two journalists for three times in Paris, and during the third and last meeting held in a Restaurant on August 27, the two French journalists signed a notarized document, reportedly handwritten by Catherine Graciet. They commit, in the document, not to write or publish anything on the Kingdom of Morocco, to never speak publicly on this country, either directly, indirectly or through intermediaries, and to never share, in any way, the documents and information in their possession with anyone.
During the same meeting, they received an advance of €40,000 each as down-payment for the €2 million they had finally agreed upon. What they did not know, is that the French police was supervising the meeting, taking pictures and recording all its details.
So, when they were leaving the restaurant, they were handcuffed with the money they had received and the document they had signed in their pockets, in addition to the recordings of their "negotiations". They were referred to court.
The Moroccan side's lawyer, Patrice Spinosi, expressed satisfaction at the Friday ruling that he described, in a statement to the media, as "a very great victory" for the Kingdom.
"There is no longer any obstacle to the prosecution of the two journalists, a prosecution that will undoubtedly lead to their condemnation for their attempt to blackmail the king of Morocco," he said.