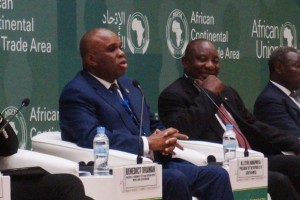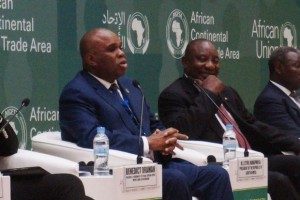 On the sidelines of the launch last week of the African Continental Free Trade Area, Afreximbank has pledged $25 billion over Five Years to upgrade Intra-African Trade.
The announcement was made by Afreximbank President Benedict Oramah who said about $25 billion will be disbursed to support intra-African trade during the five coming years ending in 2021 under an Intra-African Trade Strategy the bank launched in 2016 in anticipation of the African Continental Free Trade Area (AfCFTA), a press release posted on the bank's website said.
He said the Strategy drew inspiration from the African Union's Action Plan for Boosting Intra-African Trade and the Action Plan for Accelerated Industrial Development in Africa.
It sought to contribute to providing end-to-end and comprehensive solutions to smoothen the conduct of cross-border trade and investment activities across Africa, he said.
The signing of the AfCFTA agreement promised to build a solid foundation for prosperity for all Africans, stated Oramah who added that "Afreximbank is, therefore, prepared, willing and able to play its role to make sure that opportunities created by the history-making step taken by African leaders are fully realized".
He announced that, as part of the Intra-African trade Strategy, Afreximbank had opened credit lines amounting to $800 million to 55 banks across Africa in order to facilitate the confirmation of letters of credit in support of intra-African trade. The Bank's goal was to extend such lines to at least 500 banks in all African countries by 2021 in order to significantly reduce the cost of intra-African trade finance and to counter the constraints posed by country risks.
Afreximbank was also on the verge of launching an Intra-African Trade Platform that would facilitate the clearing and settlement of intra-African trade transactions in African currencies and significantly reduce the use of hard currencies in the settlement of such trade, Oramah added.
Benedict Oramah, who had attended the Business Forum held in Kigali on the eve of the launch of the AfCFTA, said the African Continental Free Trade Area will lead to Africa's economic development and bring about a better future for the continent.
He said that Afreximbank was working on the establishment of export trading companies, which would aggregate products from small traders for export across the continent and beyond. The operation of such companies would remove the need for individual small traders, who were not equipped for such trade, to try to export the products by themselves. Afreximbank had also introduced an African Guarantee Program to enhance the ability of African businesses to obtain trade financing, he said.