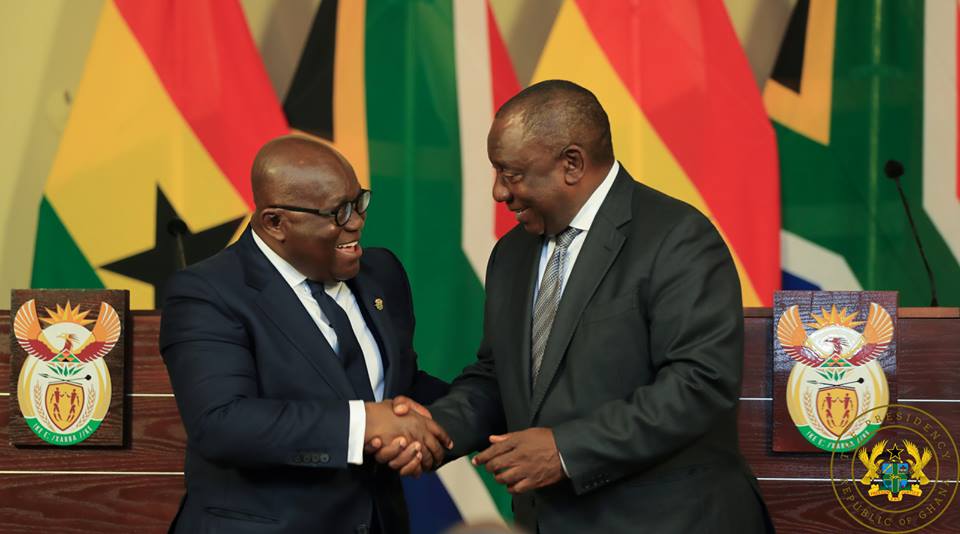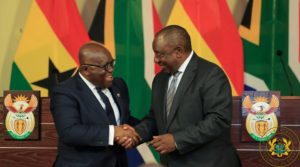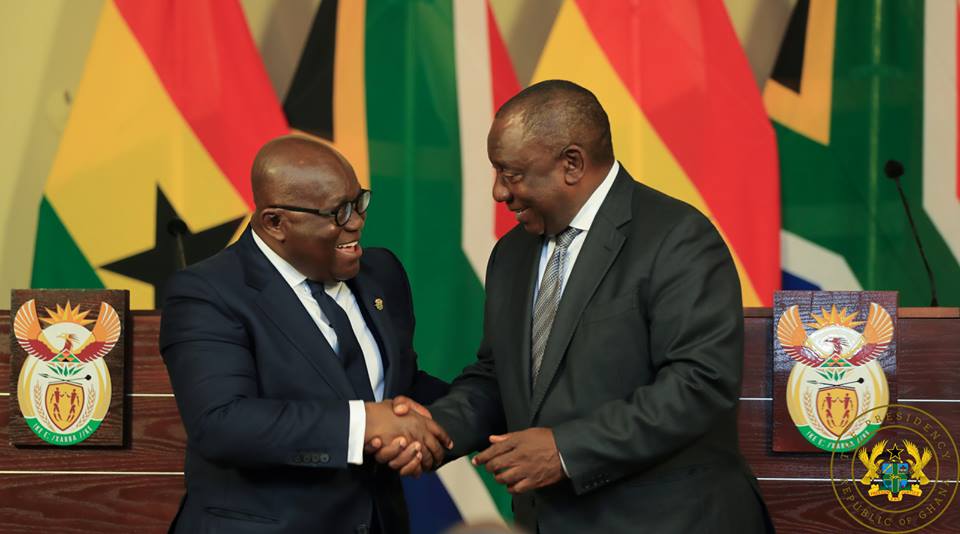 Ghanaian President Nana Addo Dankwa Akufo-Addo on Thursday spoke at the Ghana-South Africa Business Forum, held in Pretoria, as part of his State Visit in South Africa.
In his address at the forum, President Akufo-Addo said a strategic partnership between Ghana and South Africa is of the utmost importance, as it will empower the business communities of the two countries.
A genuine regional and continental market in Africa should serve the mutual interests of South Africa, the number one economy on the continent, and Ghana, the gateway to the markets of West Africa, he said.
President Akufo-Addo noted that future economy of Africa cannot be the raw material producing and exporting economy of the past, and must be based on value-addition and industrial activities.
Akufo-Addo assured South African business leaders that his country is a haven of peace, security and stability, a country where the principles of democratic accountability are now firmly entrenched in politics, and where the separation of powers is real in promoting accountable governance under the rule of law.
He said the Ghana-South Africa Business Forum will help facilitate partnerships between Ghanaian and South African companies, and create the common platform that generates ideas and nurtures them into success.
Exports of goods and services from South Africa into Ghana have grown in recent years. Products such as vehicles, machinery, mechanical appliances; electrical equipment, base metals, aircraft, vessels and associated products have contributed to the increased exports to Ghana.
The latest Africa Investment Index 2018 (AII) has ranked Ghana high on the list of the most attractive economies for investments flowing into the continent.
Ghana has moved up two places to the 16th position showing progress compared to last year's index where it ranked 18th on the list.
The country's economy will grow at 6.3 percent and 7.6 percent in 2018 and 2019 respectively, with inflation standing at 8.7 and 8.0 percent respectively, according to the International Monetary Fund (IMF).