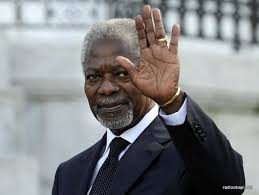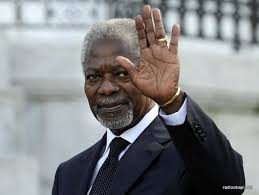 Leaders from around the world paid tribute to former United Nations Secretary-General and Nobel Peace Prize laureate Kofi Annan. The Ghanaian-born diplomat died in sleep at the hospital on Saturday in Berne, Switzerland, according to family sources. He died after a short illness at the age of 80.
Current UN chief Antonio Guterres voiced deep sadness at the news, describing his predecessor as "a guiding force for good".
Kofi Annan was the United Nations. He rose through the ranks to lead the organization into the new millennium with matchless dignity and determination, Guterres tweeted.
Ghana's former president, John Dramani Mahama described the late diplomat as a person who spent his life working for global peace, security and sustainable development.
His successor President Akufo-Addo, extending condolences to his family, said "undoubtedly, Kofi Annan excelled in the various undertakings of his life, leaving in his trail most pleasant memories.
The President has also directed all flags to fly at half-mast across the country and at all of Ghana's diplomatic missions across the world.
Kofi Annan served two terms as UN Secretary General from 1997 to 2006. He was awarded a Nobel Peace Prize for his humanitarian work.
He also served as the UN special envoy for Syria, leading efforts to find a solution to the conflict. Kofi Annan also played key roles on the African continent helping to resolve political and humanitarian crises.