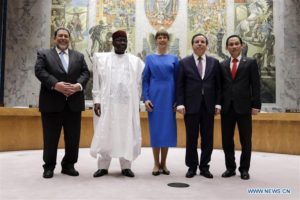 Niger and Tunisia will join the United Nations' Security Council as of Januray 2020 for a two-year period as non-permanent members.
Seven candidates ran for five seats including Viet Nam, Saint Vincent and the Grenadines, El Salvador, Estonia and Romania.
The vote took place on 7 June at the United Nations (UN) headquarters in New York City. All 193 UN member states were present to cast their votes.
Viet Nam had 192 votes, Niger: 191, Tunisia: 191, Saint Vincent and the Grenadines: 185 votes, and Estonia: 132 votes
The five seats available for election according to the regular distribution among regions were two seats for the African Group, one seat for the Asia-Pacific Group, one seat for the Latin American and Caribbean Group, and one seat for the Eastern European Group.
All five non-permanent members of the Security Council will start their mandate on 1 January 2020.They will replace Côte d'Ivoire, Equatorial Guinea, Kuwait, Peru and Poland whose mandates expire on 31 December 2019.
The Security Council's powers include the establishment of peacekeeping operations and international sanctions as well as the authorization of military actions through resolutions.