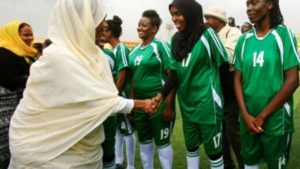 Sudan's women football league made its debut Monday for the first ever, less tan year after a revolution ended 30 years of dictatorship of former leader Omar Beshir, Le360.ma reports.
The opening match opposing Tahadi and Difaa was took place in Khartoum stadium in the presence of the Sport Minister Wala Essam and several Sudanese and foreign diplomat.
The league, made of 21 clubs appears as one of the major achievements of the joint military-civilian government established in August as result of agreement of the Transitional Military Council (TMC) and leaders of several civil organization.
The TMC in April deposed Beshir in April, ending the 30-year old rule of the pro-Islamist leader in the backdrop of several months of protests demanding but the living conditions.
Sudanese pressed with the protest and demanded the end of the TMC for its replacement by civilian administration.
Sudan has been under the sharia law since 1983. Women are not allow to play football though Sudan is one the founding fathers of the African Cup of Nations, alongside Egypt, Ethiopia and South Africa.
Asma Abubakr, Tahadi player, after the match said with women being now allowed to play, she will no longer leave the country to attain her dream.
"What happened today is nothing but fantastic," said Juan Essam of the opposite team.
"For the first time, I have played in a football stadium, It was my dream," she added.