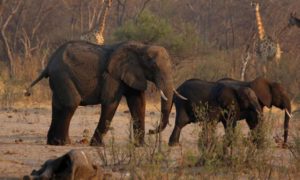 In Zimbabwe, more than 200 elephants have died amid a severe drought, the South Africa nation's parks agency said.
According to Zimbabwe National Parks and Wildlife Management Authority, at least 200 elephants have died in vast Hwange National Park alone since October and other parks are affected.
Animals including giraffes, buffaloes and impalas are also dying, the park said, and the situation can improve only after rains return.
The El-Nino drought that lasted between October 2018 and May 2019 has devastated water sources in Zimbabwe, and citizens are bearing the brunt of the disaster.
Zimbabwe's government has often complained about its elephant numbers, arguing that selling the animals will help reduce their population and generate funds to care for them, a position that has been opposed by animal conservationists.
Many animals are straying from Zimbabwe's parks into nearby communities in search of food and water. The parks agency has said 33 people have died from conflict with animals this year alone.
The agency said it plans to move 600 elephants, two prides of lions and other animals from the Save Valley Conservancy in the southeast to less congested parks.
In May, Zimbabwe said it had made $2.7 million from the sale of 90 elephants to Dubai and China, and profits will be plowed into animals' conservation efforts.