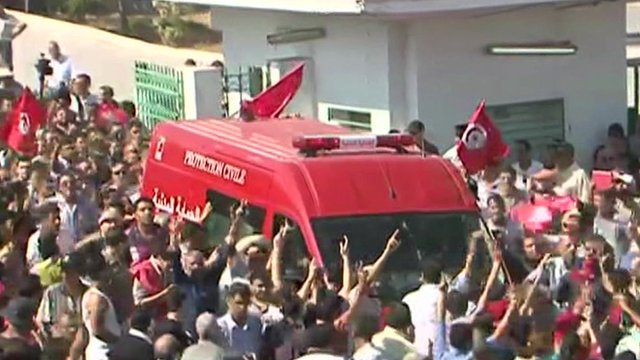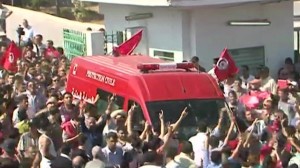 The assassination of Mohamed Brahmi in front of his residence has ignited a new wave of tensions and some of his supporters accuse Tunisian authorities of being behind the attack. The president has called for calm after protests in different towns turned violent. The international community condemned the attack. Tunisia is struggling ease through its fragile transitional period and the assassination of a second opposition figure in 6months could be a major turning point.
Mohamed Brahmi heads the People's Movement, a nationalist and secular political party, which has been critical of the ruling government.  His wife said that his husband was "killed by a terrorist gang" and described the assassination as "the biggest catastrophe that could happen in Tunisia." She hailed her husband as a "martyr to his opinion and position."
His supporters believe that the Islamists are behind the attacks. Some of them were chanting slogans such as "down with the rule of the Islamists." Ennahda, the Islamist party leading the coalition government, refuted links to the attack. It conceived it to be a "trap laid by criminals to cause in-fighting and violence" and has vowed to find those behind the attack.
The angry protesters set several Islamist offices and government properties on fire. Tamarod twitted blames on the "failed government" for "another national catastrophe" before making prophesies that "the streets are the solution." President Moncef Marzouki preferred to call for calm and considered the attack as a "plot against Tunisia's national security."
The Ministry of Interior has claimed that the weapon used to murder Brahmi came from Libya according to preliminary data that it has collected. Friday will be a national day of mourning. A general strike of "political" nature is also organized by UGTT, the largest labor organization.