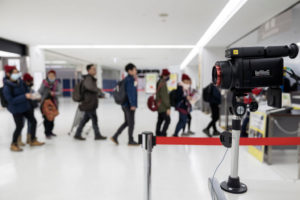 Morocco started screening passengers at its international ports and airports as part of preventive and safety measures after the outbreak of the coronavirus in China and reported spread to other countries.
The health ministry said the move aim at detecting and treating any potential coronavirus infections after the spread of the disease in Europe.
"The risk of the spread of the virus on national territory is low," the ministry reassured, noting that no case has been found so far.
The ministry added that that the national monitoring means are alert and that services are ready to deal with any potential infection.
Meanwhile, the government of China has vowed to spare no effort to ensure the safety and protection of Moroccans living in China, especially in the city of Wuhan and Hubei province, said Sunday evening the Moroccan embassy in Beijing.
The Chinese government will do "everything to ensure the safety, health and well-being of Moroccan nationals residing in China, particularly in the city of Wuhan and Hubei province," the embassy said.
The embassy also said it is in direct contact with members of the Moroccan community, and that it urged them to remain cautious and to follow all the preventive measures recommended by the Chinese authorities.
The embassy also set up, on Saturday, a crisis cell to follow up the situation of the Moroccan community in China. The crisis unit can be reached at the following numbers: +8618701156920/ +8615652198381, and at the following e-mail address: sifama.beijing@moroccoembassy.org.cn.
Coronaviruses are part of a large family of viruses that range from the common cold to more-serious respiratory diseases.
The strain identified in China is related to two other coronaviruses that caused major outbreaks in recent years, Middle East respiratory syndrome, or MERS, and severe acute respiratory syndrome, or SARS.
Chinese officials first detected this new strain of the virus on Dec. 31 in Wuhan. Since then, the deadly disease has claimed the lives of at least 81 people, while the number of coronavirus cases has risen to 2,744.
Chinese authorities initially linked the virus to an unsanitary food market where seafood and mammals were sold for human consumption.
Scientist said people who were sickened were likely to have eaten something infected with the virus.
Several other countries have confirmed cases of Coronavirus including France, Canada, Australia, the US, Japan, Thailand, Taiwan, Vietnam, Singapore, Malaysia, and Nepal.