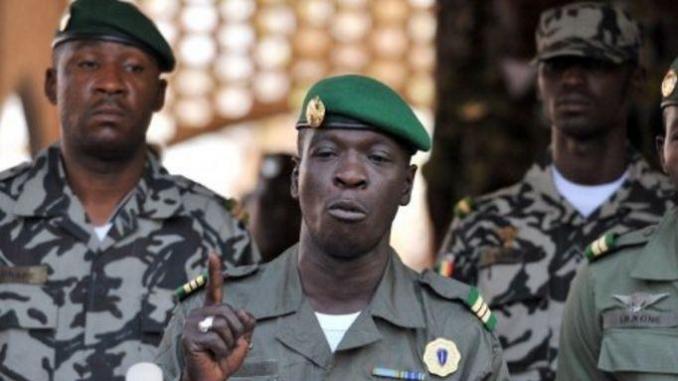 The official ceremony for the 60th anniversary of Mali's independence on September 22nd saw the notable presence of Amadou Sanogo, author of the 2012 coup d'état. The former head of the junta is awaiting trial for "assassination and complicity in assassination.
During the official ceremony of the 60th anniversary of Mali's independence, it was seen in several planes. Firstly, coming down from the back of his vehicle, wearing white gloves. Another remark: he was floating a little bit in his ceremonial outfit. On his chest, medals. In his hand, a command stick. Despite his dark glasses, Amadou Sanogo was immediately recognized for his first major official outing since his release last January.
The man is very comfortable in the official tribune. Here he is sitting, gold leaf cap on his head, white socks on his feet, he is finally wearing a mask. He reads a newspaper diagonally. At the end of the ceremony, he shakes hands, makes selfies. He is not at all lost in this environment. Captain in 2012, he made a coup with other soldiers. A few months later, he obtained the rank of general. At the end of 2013, he was arrested for his alleged involvement in the death of 21 "red beret" soldiers found in a mass grave near Bamako.
Opened three years later, his trial for "murder and complicity in murder" was postponed indefinitely. He is therefore awaiting trial. For the moment, however, he is obviously signing a return to grace.
On the transition side, negotiations are continuing. Goodluck Jonathan is expected in Bamako this Wednesday for 48 hours. The Mediator of the ECOWAS comes to take stock of the transition in progress, two days after the designation of Bah N'daw as President of the transition, and that of Colonel Assimi Goïta as Vice-President. The international community is keeping up the pressure, awaiting the appointment of a civilian transitional Prime Minister from now on. This is despite the fact that the head of the junta urged ECOWAS on Tuesday to lift the sanctions imposed in the aftermath of the coup d'état.
The battle is now being fought over portfolios in the future government. According to our information, the junta would like to keep five ministries, and not the least: Defense, Security, Equipment, Mines, and Territorial Administration.