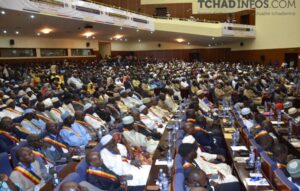 President Idriss Déby created, on Wednesday evening, a committee in charge of the organization of the second National Inclusive Forum. This committee will be responsible for organizing a kind of review of the Constitution adopted two years ago and which enshrined Chad's transition to the Fourth Republic.
The creation of this committee is the fulfillment of a promise made by the Chadian Head of State. In closing the National Inclusive Forum, which led to the adoption of the Constitution in 2018, Idriss Déby Itno had hoped that every two years there would be an evaluation of the implementation of the new fundamental law, which is supposed to improve the functioning of the country.
For the past two years, the abolition of the post of Prime Minister, the introduction of a confessional oath for ministers and senior civil servants, and setting the age for standing for election to the presidency of the Republic at 45 have been the most criticized provisions in the current constitution. Many even call it "illegitimate" because it was not adopted by referendum.
The participation of all strata of Chadian society in the second forum will be the main challenge for the organizing committee. In 2018, the opposition and some of the unions boycotted the National Inclusive Forum, indicating that they did not want to participate in a meeting whose conclusions were known in advance.