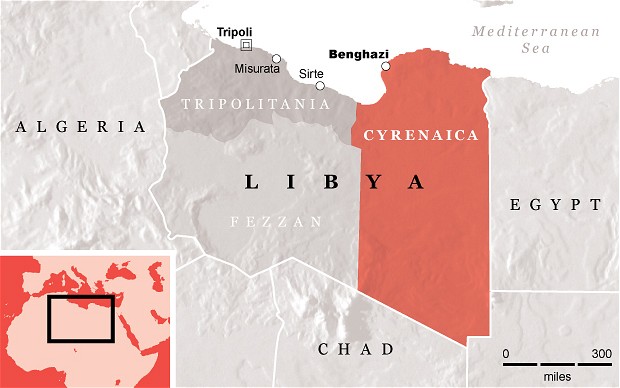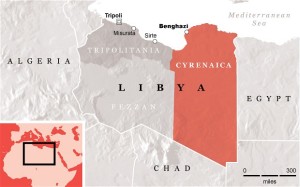 The government in Tripoli has received a heavy blow in its efforts to reunite and reconstruct Libya after the oil rich east announced the formation of an autonomous government to administer the region. A television broadcast showed ministers taking oath with Abd-Rabbo al-Barassias Prime Minister. Tripoli has not officially reacted to the development.
Officials of the new government were shown on a pro-federalist television station. They held an official ceremony in Ajdabiyaunder the flag of Cyrenaica, the eastern region, to announce the self-declared autonomous regional government. Tribal leader Ibrahim Jathran who was also the former head of Libya's Petroleum Protection Force in charge of guarding oil facilities was on the sidelines of the regional government. He defected from the Tripoli led-government during the summer before heading the assaults and laying sieges on Es-Sider and RasLanufs; the biggest ports of the country.
The regional government will be headed by Prime Minister Abd-Rabbo al-Barassi, a defected air force commander. He will be assisted by more than 20 minsters who took oath at the ceremony held on Sunday.
The announcement of an eastern autonomous government could spark new political crisis in the country. The government in Tripoli is struggling to impose its authority and there are fears that the announcement of a regional government in a non-federal state could motivate other regions to follow.
Although the formation of a government in Cyrenaica is expected to have no practical effects because it is expected to be a symbolic gesture. More than 60% of Libya's oil productivity comes from the east.
Tripoli has not released an official statement in reaction to the announcement. It has been unable to rein in rebel groups and armed tribes.