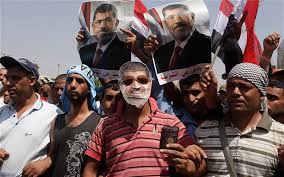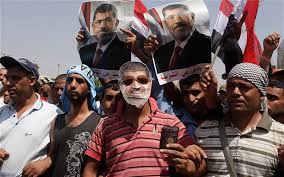 Mohammed Morsi has delivered a "message to the Egyptian people" through the lawyers of the Muslim Brotherhood referring to the protests against his ousting as a "jihad" which should continue. Morsi who has been held in incommunicado since July 3rd by the military considers himself as the legitimate president of the country and warns that only his return will assure stability.
The presentation of the message coincides with the uplifting of the state of emergency and curfew that was imposed in August to limit protests. However, authorities have warned that "any attempt to destabilize the country or undermine state or citizen's security will be dealt with firmly in accordance with the law".
Morsi accused the military of violating their oath of loyalty and singled out Defense Minister General Abdel-Fattah el-Sissi of committing "treason against God" and "treason against the whole nation by driving a wedge among the people of Egypt".
Morsi said that he was "kidnapped forcefully" on the eve before his removal was announced. He was then held in a Republican Guards facility for three days before being moved to a naval base.
He encouraged his supporters to remain and urged them to maintain their "steadfastness" because the "coup has begun to fall". He claimed that stability will come to Egypt when "the military coup is eliminated and those responsible for shedding Egyptians' blood are held accountable."
Whaid Abdel Maguid of the main opposition bloc National Salvation Front, Morsi's political opponents, said "Morsi still lives in the illusion" because he "has lost his constitutional and legal legitimacy".
Muslim Brotherhood's team of lawyers has hinted that they will press charges for the toppling of Morsi to be considered "null and void" and get it considered as "a crime".