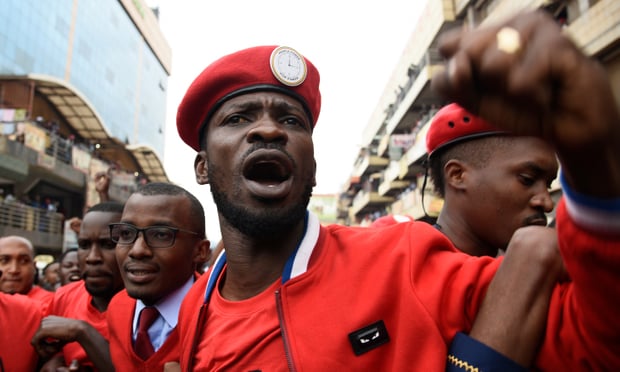 The opponent is in fact locked up in his residence in Kampala since the presidential election of January 14 and  soldiers are surrounding his home.
Bobi Wine, who challenged President Museveni during the election and who rejects his re-election, should theoretically be able to regain his freedom of movement during the day.
Ugandan police spokesman Fred Enanga said law enforcement will leave the area around Magere's home north of Kampala. But the police will continue their surveillance to ensure compliance with the law, including rules enacted to prevent the spread of Covid-19.
The leader of the opposition is mainly suspected of trying to mobilize his supporters against the government to challenge the presidential results. This is the reason cited by the police to justify his 'preventive detention'. However, the High Court of Justice rejected this argument, considering that the detention of Bobi Wine was "illegal".
According to Joel Ssenyonyi, spokesman for the Platform of National Unity, the party of Bobi Wine, the police were still blocking the home of the opponent on Monday evening, when the High Court demanded his immediate release.
This is a first victory for Benjamin Katana, one of Bobi Wine's lawyers, but the fight is not yet over, according to him. Indeed, the lawyers of Bobi Wine are not entirely satisfied after this decision. They fear other, even more restrictive measures, as Benjamin Katana explains: "We have received information that the authorities plan to have Bobi Wine arrested immediately after his release and to charge him with other offenses and put him in pre-trial detention. The goal is to put him out of circulation for a certain period of time».
This Tuesday morning, the MPs and party leaders plan to meet at Bobi Wine's place, for a first meeting with their leader since the general elections held on January 14. They will  in particular discuss a potential appeal to the Supreme Court against the results of the presidential election.
Bobi Wine does not have much time left to file its appeal. The deadline is set for this Friday. In addition, his  Platform for National Unity party is encountering difficulties in gathering evidence of electoral fraud.
According to Wine's lawyer, the party's premises have been surrounded by police, several election observers have been arrested, and the minutes confiscated.