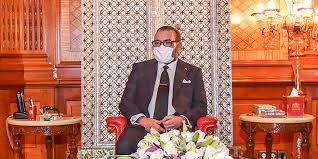 King Mohammed VI will launch on Thursday Morocco's nationwide immunization campaign against Covid-19 after the country received two million AstraZeneca vaccine doses and a half million vaccines from China's Sinopharm company.
The announcement was made by the Royal Office in a statement issued Wednesday.
"After receiving different batches, the Covid-19 vaccine is available in sufficient quantity in the Kingdom of Morocco to start the national vaccination campaign in the best conditions", said the Royal Office press release.
"In accordance with the high royal instructions, this vaccination campaign will be free for all citizens", added the release, noting that the campaign, which will unfold progressively, will benefit all Moroccan citizens and foreign residents aged between 17 and over 75 years.
"This will make it possible to achieve the expected levels of collective immunization and protect the population against this pandemic", said the Royal Office statement.
To ensure success to the large scale operation, Moroccan authorities have mobilized nearly 3000 sites, over 25,530 health workers and 7000 mobile unites to inoculate the targeted priority people.
Morocco has ordered 66 million vaccine doses for the immunization of 33 million inhabitants against the Coronavirus.