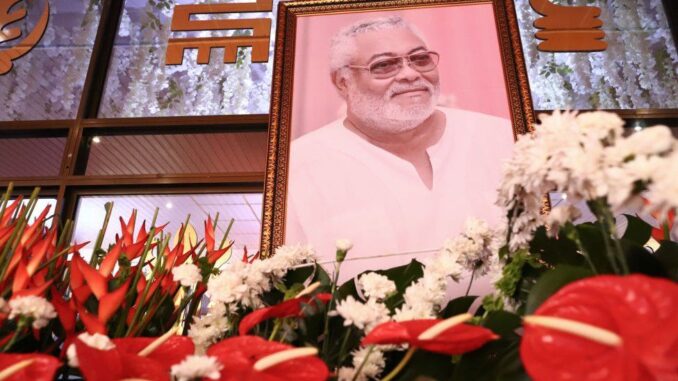 The national funeral of Jerry Rawlings finally took place Wednesday morning, January 27 in the capital. The former president of Ghana, a great figure of pan-Africanism, died on November 12. The country's two main parties buried the hatchet during a tribute ceremony.
With music and great pomp and ceremony, Ghana buried its former president this morning, who was receiving a state funeral after three days of national tributes.
The funeral ceremony took place in the Independence Square in Accra, in the presence of high dignitaries of the State and the family of the deceased. His daughter Amina moved the audience by declaiming a tribute written by her mother, Nana Agyeman-Rawlings. Her mother had shared the life of the former president for more than 43 years. "We believed in each other, and in our dreams of making Ghana a country we could all be proud of. I dare say we did not do a bad job. We were a team fighting to transform a failed state into one that offered hope for prosperity for all. You did your best, and I played my part in my own way. You always said you didn't need titles to define yourself. So you're still Flying Officer Jerry John Rawlings."
His daughter Zanetor Agyeman-Rawlings, a member of parliament from her father's party, the NDC, also saluted a strong man who ruled Ghana for nearly two decades. "Your shoulders were strong, strong enough to bear the weight that was put on them. You knew your goal, and you accomplished it. You never wavered. Brave and bold in every way, you remained true to the essence of who you were, until your last day.''
After the ceremony, which continued all morning, Jerry Rawlings was buried in Accra Military Cemetery in a coffin draped in the colors of Ghana.