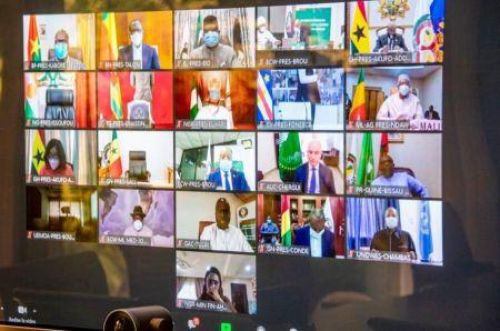 The common currency of the ECOWAS countries may not see the light of day until 2025 at best. This is what emerges from the debates held this last Saturday by ECOWAS leaders at an ordinary summit. The heads of State decided to postpone until January 2022 the resumption of the application of their convergence pact, because of the Covid-19 pandemic, which forced West African countries to increase their spending.
Already suspended for 2020, convergence measures have also been frozen by the Heads of State for the whole of 2021. A new convergence pact is to be discussed by the ECOWAS countries. It will come into force on January 1, 2022. The West African organization explains this by the fact that the pandemic is leading to additional spending, which is distracting governments from applying the criteria, particularly on debt and budget deficit.
Since convergence will not resume until 2022, the common currency is postponed. Indeed, the Burkinabe Minister of Economy explains in the press that it takes three years of convergence to consider the launch of the eco, which postpones its effective date to 2025.
Many West African economists therefore ask a question: is not this postponement of the eco is not primarily an admission of failure? In the columns of the daily Sidwaya, the Burkinabe economist Ousséni Illy underlines the existing cleavages between the WAEMU countries and the others, particularly Nigeria.
Cleavage that blocks the process of monetary integration. Indeed, whether on the statutes of the future Central Bank or the exchange rate regime of the common currency, the leaders have not moved forward. The risk is that doubts about the political will will may be allowed to take hold in public opinion.