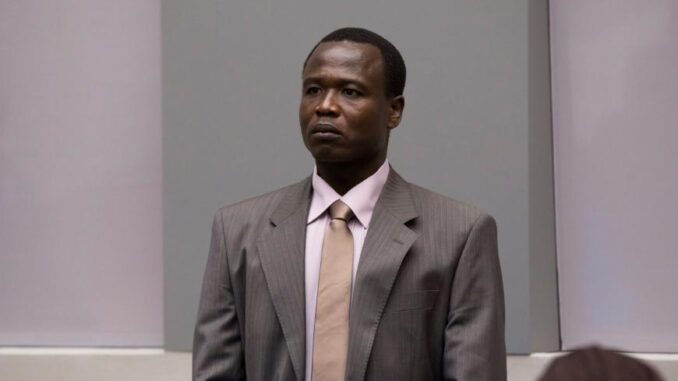 The former child soldier who became commander of the Lord's Resistance Army (LRA) was prosecuted on 70 counts of war crimes and crimes against humanity committed by Joseph Kony's group in northern Uganda between 2002 and 2005. He was convicted on 61 of the charges brought against him by the International Criminal Court.
After a five-year trial, one of the main LRA leaders was found criminally responsible for numerous abuses in northern Uganda between 2002 and 2005. His lawyers had tried to portray the former child soldier as a victim of the LRA himself, but the court did not follow this line of reasoning, finding Dominic Ongwen guilty of 61 of the 70 counts of war crimes and crimes against humanity brought against him.
All the crimes for which he was convicted were committed when he was the head of the Sinia Brigade. A hundred men he led after being noticed by Joseph Kony for his zeal in battle. Officer Ongwen was guilty of commanding several attacks. Gathered his soldiers, sometimes very young, to give orders. Those to attack civilians, to kill them by bullet or fire, to loot, and then to kidnap inhabitants, most often young children, tied together and barefoot, forced to carry the heavy spoils of the looting, some of which Dominic Ongwen reserved for himself. Judge Bertram Schmitt spent nearly two hours detailing the acts committed by Ongwen's men and by the accused himself.
"To have suffered and been a victim in the past is not an excuse to commit crimes again," said Prosecutor Fatou Bensouda during the proceedings. More than 130 experts and witnesses participated in the trial, and some 4,000 victims were represented. Dominic Ongwen did not speak at the end of the verdict, but his face showed signs of fatigue.
Now Dominic Ongwen's lawyers have 30 days to challenge the verdict. However, it will still be necessary to wait to know the sentence. Dominic Ongwen faces 30 years in prison, at which time it will be determined whether his past as a child soldier -abducted on his way to school at the age of nine and trained to become a war machine – will serve as a mitigating factor.