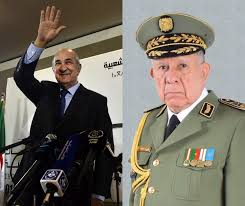 Algeria is dominated by a "special regime" where there is a dichotomy between a real power held by the army and its intelligence services and a formal power embodied by the president, underlined, Monday, Spanish newspaper" La Provincia".
"On the political and social level, Algeria enjoys a particular regime. A characteristic which identifies this regime is the existence of a dichotomy between a real power held by the army and its intelligence services, and the formal power embodied by the Head of State," said the Canary Islands-based daily.
"The struggle between the two powers for state control has marked the political life of Algeria since its independence on July 5, 1962", said the author of the analysis Juan José Pérez Piqueras.
The regime makes the population believe that any change would be fatal to the stability of Algeria, a propaganda which can explain the status quo in this country, explained Pérez Piqueras, a political analyst at the Pablo Olavide University in Seville.
Despite the stepping down of Abdelaziz Bouteflika and the election of Abdelmajid Tebboune in December 2019, "the struggle of young Algerians who demonstrate peacefully to demand regime change continues with no prospect in sight", deplored Pérez Piqueras.
"This situation deprives the country of the internal cohesion which is essential for the exercise of a strong mandate," said "La Provincia", emphasizing "the current political and social insecurity" in the country.
Several institutions and organizations have sounded the alarm regarding the explosive situation in the North African country.
In this vein, COFACE, a major French economic organization which assesses the level of "country risks" throughout the world, namely the multidimensional risks that may face French and international companies if they invest in a specific country, warned that 2021 risks to be a complicated year in terms of stability in Algeria.
Regarding the Algeria risk in 2021, COFACE notes that the country is exposed to the danger of "the prevalence of poverty, the lack of job opportunities and the difficult economic context, exacerbated by the health crisis."
Yet, according to COFACE, the other dangerous element that makes Algeria a country at high risk is "the feeling that nothing is really changing in governance."
This feeling could probably fuel popular discontent, warns French organization. "The military and government tolerance of the unrest could decrease and security measures tightened. In addition, the major role played by the military on the internal scene could increase abroad, in a context marked by infiltrations of jihadists from Libya and Mali."
COFACE which insists on the fragility of the political situation in Algeria notes that this fragility directly threatens its ability to resist the economic and financial crisis triggered by the COVID-19 pandemic.