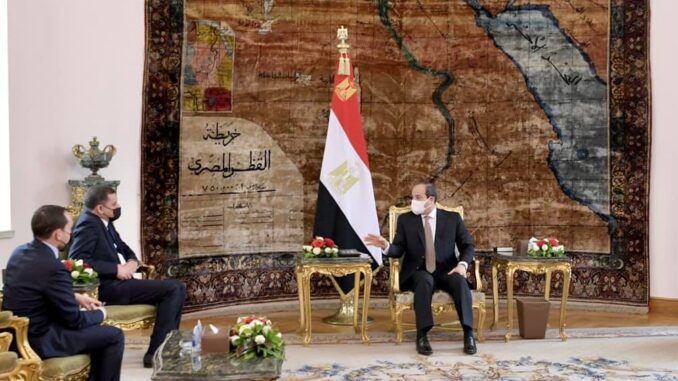 Libya's interim Prime Minister Abdul-Hamid Dbeibah met Thursday with Egypt's Fattah al-Sisi who brought his support to the Libyan new interim leadership.
The visit is Dbeibah's first international trip since his election on Feb.05 by the Libyan Political Dialogue Forum (LPDF) in Geneva.
The powerful businessman is preparing to name a cabinet. Al-Sisi reportedly reaffirmed Egypt's full readiness to provide all its expertise and experience in a way that contributes to putting Libya on the right track and preparing the country to move towards horizons of construction, development and stability.
A statement from the Egyptian presidency also indicated that both Sisi and Dbeibah vowed to boost cooperation and consultations on many levels, especially in security and economic files, Libya Observer reports.
The visit came after Egypt early this week re-opened its embassy in capital Tripoli following its closure in 2014 over security concern. Egypt also re-established air traffic between the two countries.