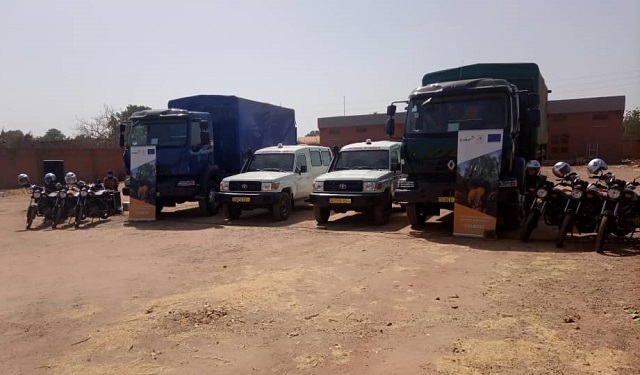 As part of the project to stabilize the eastern region (Stabest) and the fight against terrorism, the Belgian Agency for Development has just handed over a batch of equipment to the Burkinabe security forces.
Valued at about one billion CFA francs, this equipment was handed over after weeks of training for mobile gendarmerie and police units: eighty motorcycles, about ten patrol vehicles, armored vehicles, ambulances, tactical, protection and intervention equipment, and troop transport trucks.
"They [the security units] are equipped, with needs that have been identified by themselves. It is not the European Union, nor Belgium, that sent a list, but they have responded well to their requests and have received the necessary training to be properly operational," explains Olivier Krins, head of the Stabest project.
This equipment will allow in the coming days to project fighting units on the ground in certain localities, according to Ousseni Compaoré, the Burkinabe Minister of Security. "Our presence is a guarantee of security for these populations. The East is one of the regions with the most concerns about the terrorist acts we are experiencing. The final objective is all localities".
Lamoudi Yonli, president of the Association of Municipalities of the Eastern Region, says he is pleased that the first two police and gendarmerie units have returned to the field, trained and equipped.
"The security situation is still worrying. For us, it is a great joy because we are awaiting the real and effective deployment of the FDS [Security Forces] on the ground who will reach out to the people who need to be secured". Eventually, 600 elements of the internal security forces will benefit from the same type of training.