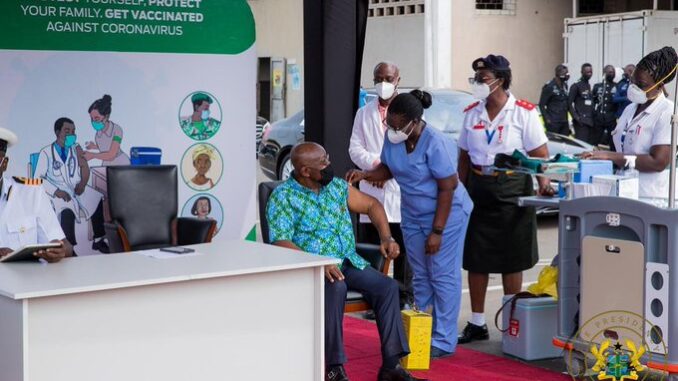 The vaccination campaign against Covid-19 starts this Tuesday, March 2. A total of 600,000 free doses of AstraZeneca vaccine will be distributed in 43 districts most affected by the pandemic. The priority target audience will be caregivers and people over 60 years of age. On Monday, President Nana Akufo-Addo himself kicked off the vaccination campaign. But not sure if this gesture was enough to reassure Ghanaians, as there is still a strong distrust of vaccines in the country.
DNA modification, the implantation of electronic chips or the attack on Africa's population growth… President Nana Akufo-Addo tried on Monday to put a stop to rumors about vaccines by getting vaccinated first, in front of the cameras. On Sunday, he addressed the nation again to try to reassure.
Despite this, skepticism remains, says Kobi Annan, an analyst at the Songhai Advisory Board think tank. "Unfortunately, developing countries, especially in Africa, do not have a very positive track record in terms of vaccine deployment. We've had some horrific cases, for example in Nigeria where the giant Pfizer acted in an outrageous manner and such examples leave their mark. In addition, this product – and it has been said very publicly – has not been subjected to additional tests, but has been authorized in an emergency».
In an attempt to overcome this reluctance, Accra is relying on pedagogy, explains government spokesman Kojo Oppong Nkrumah. "We're explaining to people the science behind the immunization we've been doing in Ghana since the 1970s. We talk to them about the health benefits, we also respond to some of the conspiracy theories, and for that we've engaged religious leaders, civil society organizations, and community leaders, and we hope that with all of this we can do it». Ghana recorded over 84,000 cases of Covid and 607 deaths, including nearly 200 in the last month alone.