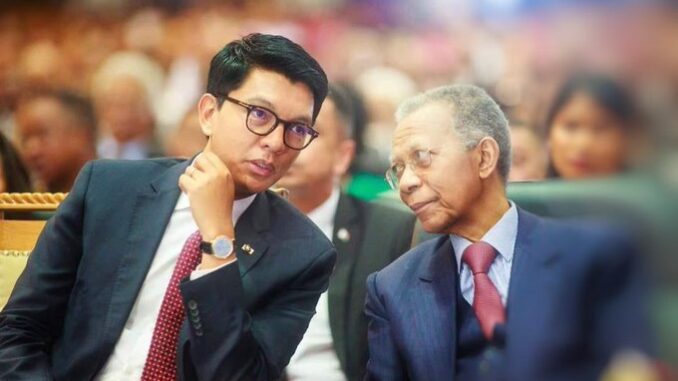 The former Malagasy Head of State Didier Ratsiraka died this Sunday morning, March 28, at the age of 84.
The announcement was made on his Facebook page. He had been president of Madagascar twice, from 1975 to 1993, then from 1997 to 2002. The naval officer, nicknamed the "Red Admiral" for his socialist policies, had been hospitalized earlier last week for a routine check-up.
President Rajoelina declared a day of national mourning on Monday.
It is an emblematic figure of the Big Island and of the African continent who passed away. Didier Ratsiraka, a native of Vatomandry, on the east coast of the country, was at the head of the Malagasy state for 21 years. A naval officer, he entered politics as a soldier in 1972, during a transitional regime.
At the age of 36, he became Minister of Foreign Affairs and obtained, among other things, the revision of cooperation agreements with France, the departure of the French military and the evacuation of the Diego Suarez base, in the extreme north of the island, and the exit from the franc zone. At that time, Didier Ratsiraka was nicknamed "the Cunning One" by Jacques Foccart, the "Mr. Africa" of French presidents.
Three years later, he was brought to the head of the country by a military board. He had the Charter of the Socialist Revolution (the "Boky Mena" in Malagasy) adopted by referendum, in which he established the principles of the Constitution of the Second Republic.
With Didier Ratsiraka, Madagascar asserted itself as a member of the movement of non-aligned countries, which proclaimed themselves independent of the Eastern and Western blocs during the Cold War.
"The country has lost a great man. The young, the old, everyone knows the name of Admiral Didier Ratsiraka. He was a brilliant leader of political life. When he was President of the Republic, he carried and put forward the Malagasy values and culture. His popularity and intelligence spread throughout the Indian Ocean, Africa and the world," said the Head of State Andry Rajoelina.
"He is the one who took Madagascar out of the franc zone. Regardless of political parties and differences of opinion, everyone agrees that he has done a lot for the country. As the highest ranking officer in the Malagasy army, the only one to wear five stars, the State and his family have decided to give him all the honors he deserves. Tomorrow will be a day of national mourning. We will pay our last respects. The family has lost a loved one. The country has lost a father," added President Rajoelina.