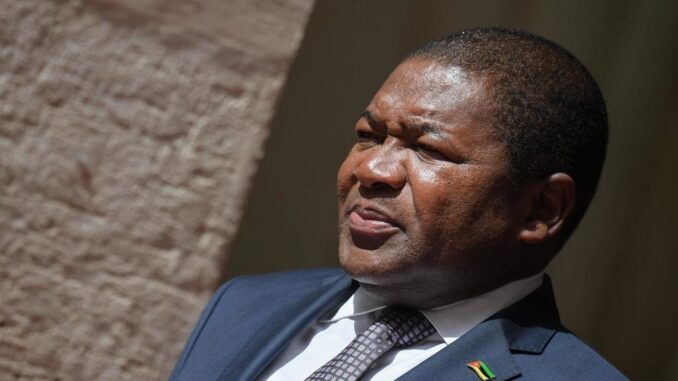 The French oil group has suspended certain contracts with companies linked to its gas mega-project in Mozambique. The project has been on hold since jihadist groups attacked the town of Palma in Cabo Delgado province, about ten kilometers from Total's facilities, in late March. The French company has since evacuated its staff.
Felipe Nyusi does not intend to see the largest industrial project in Mozambique's history come to an abrupt end. In an address to members of parliament, the president asked the foreign companies involved in the gas consortium to think carefully about the decisions they were making, assuring them that security would be guaranteed in Cabo Delgado province. This statement comes as the Mozambican employers' association revealed that the French company Total had suspended a number of contracts with subcontractors: among others, an Italian company in charge of building a village to relocate people displaced by the gas project, as well as a Portuguese company that was to build a new airport in the region.
According to the Confederation of Economic Associations of Mozambique, the jihadist attacks in the gas province have had a negative impact on 410 companies and 56,000 employees. Since the Palma attack, local SMEs have lost $90 million. The Confederation is currently evaluating the contracts suspended by foreign companies and has asked Total in particular to pay its bills. When contacted, the French group did not respond to our requests. It had stated that its project would resume once security was assured.