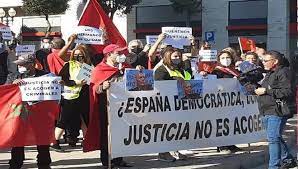 Hundreds of Moroccans living in Spain on Wednesday staged demonstrations in several cities to denounce the attitude of the Spanish authorities which allowed the so-called Brahim Ghali, prosecuted for serious crimes of genocide, terrorism and human rights violations, to enter the Spanish territory under a fake Algerian identity.
In Madrid as in Tarragona, members of the Moroccan civil society demanded justice for the Moroccan and Spanish victims of the acts perpetrated by the leader of the Polisario militias and his accomplices, urging the Spanish judicial authorities to reactivate and speed up the procedures in order to prevent this notorious criminal from escaping justice.
In the Spanish capital, members of the Moroccan community demonstrated in front of the headquarters of the ministry of Justice, calling on this institution to assume its responsibility in the prosecution of the so-called Brahim Ghali, accused of having ordered assassinations, kidnappings and torture against hundreds of Moroccan and Spanish victims.
Waving banners condemning the Spanish government's position on this case, participants in these demonstrations called for the immediate arrest of this convict who is the subject of a European arrest warrant.
They also asked the Justice, the Spanish government and the competent authorities, to fulfill their duty as quickly as possible towards the victims of the acts of the Polisario, including at least 300 Spaniards, instead of protecting assassins.
The secret reception under a fake identity of the so-called Brahim Ghali violates all laws and international principles and puts the Spanish government in an impasse, deplored the participants in two demonstrations, organized in front of the sub-delegation of the government and the Provincial Audience of Tarragona.
Representatives of civil society and members of the Moroccan community in Tarragona and neighboring towns, underlined, in a manifesto read out on this occasion, that the government's attitude harms relations and friendship with Morocco, calling on the Iberian executive, which allowed a criminal to enter its territory with impunity, to remedy this situation.
They deplored the fact that the Spanish government, by hosting the so-called Brahim Ghali, violated its own laws by covering up a fugitive suspected of being responsible for the murder and torture of Spanish nationals.