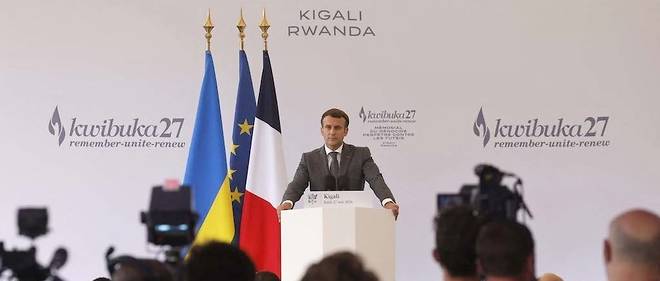 "By standing, with humility and respect, at your side, I come to acknowledge our responsibilities," French President Emmanuel Macron said in Kigali on Thursday, while asserting that France had "not been complicit" in the genocide in Rwanda. Paul Kagame's reaction to these words was not long in coming.
Paul Kagame's reaction was highly anticipated. It was finally very positive. "These words were more valuable than an apology, it was the truth," said the Rwandan president, referring to Emmanuel Macron's speech at the Gisozi memorial this Thursday morning. Paul Kagame then returned at length to the importance of recognizing the truth in the complicated relationship between Rwanda and France, a relationship that has nevertheless improved little by little in recent years.
He also presented his French counterpart as a head of state seeking to renew and change his relationship with Africa. A change in the right direction, according to Paul Kagame, who concluded, "The relationship between our two countries will never be conventional, for better or for worse, and we have chosen to make the best of it."
After all these years of divergence between these two countries, we will also remember the will of the two French and Rwandan heads of state to now look to the future. The revival of cooperation between the two countries was at the center of their speeches: the investment of French industries in Rwanda, the return of the French Development Agency to the country and the reopening of a French-speaking cultural center.
Emmanuel Macron also announced that he came with 100,000 doses of Covid-19 vaccine that he donated to Rwanda as part of the Covax initiative. Not to mention the judicial cooperation between the two countries to prosecute genocidaires still at large. "I want to believe that this rapprochement is irreversible," concluded Emmanuel Macron, who also announced the upcoming appointment of a French ambassador to Rwanda, whose position has been vacant for six years, an appointment that will be submitted to the approval of the Rwandan authorities, he said.