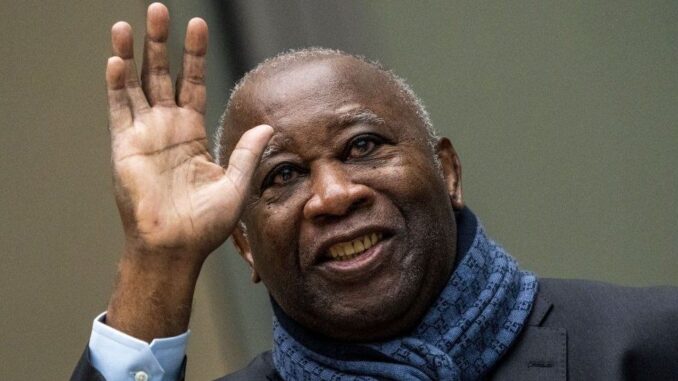 Laurent Gbagbo – whose return date to Côte d'Ivoire is still the subject of speculation – could return more discreetly than expected, without a popular welcome on the day of his arrival at the airport. The government wants to avoid the risk of overflow.
Will there be crowds at the airport cheering Laurent Gbagbo on the day of his return? Probably not. Indeed, according to our information, the Ivorian executive does not want such a welcome, arguing that the demonstrations of victims in recent weeks show a risk of public order problems.
For several weeks now, the Collective of Crisis Victims in Côte d'Ivoire has been multiplying demonstrations and speeches. Its president, Issiaka Diaby, whom his detractors accuse of being close to the RHDP, is demanding that Laurent Gbagbo be arrested upon his return, since he is currently serving a 20-year prison sentence for the so-called "BCEAO heist".
The RHDP youth of Yopougon also made it known that they wanted a "discreet" return, while the FPI is mobilizing on the ground to prepare a grand and triumphant welcome in which it intends to involve other parties such as the PDCI.
In addition, for the past few days, the press close to the government has been multiplying articles calling on Laurent Gbagbo to keep his "triumph modest" and to "return quietly. "We know that hearts are bleeding on both sides, which is why we must celebrate this victory with modesty," said Laurent Gbagbo's spokesman, Justin Koné Katinan, three weeks ago at the home of Reconciliation Minister Kouadio Konan Bertin.
In a statement released last night, the committee for the organization of the return, set up by the FPI, said that "government authorities and personalities in charge of this issue continue to discuss the conditions of the return, without any mention of the format of the reception of President Gbagbo. Justin Koné Katinan, who signed the statement, also assured "the commitment of the parties in discussions on a peaceful, secure and joyful return of President Laurent Gbagbo.
If discretion is finally the modus operandi chosen by the former president, it would be quite logical that the date of his return not be communicated in advance. This date is the sole decision of the person concerned, who is only required to communicate it to the authorities for security reasons.