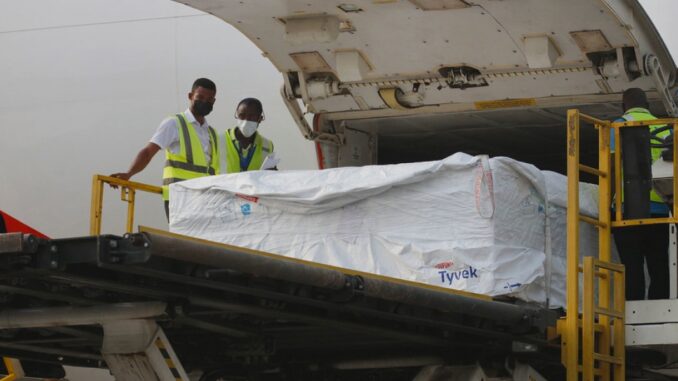 This is the first step for the African continent to be able to manufacture its own vaccines against Covid-19. Cyril Ramaphosa, the South African president who is already fighting for the lifting of patents, announced on Monday 21 June, during a press briefing of the World Health Organization, the establishment of a technology transfer center for messenger RNA vaccines.
In South Africa, the president is concerned about the third wave of coronavirus currently affecting the country. In the last 24 hours, 6,000 new cases have been reported in Gauteng province alone. During a WHO press briefing, Cyril Ramaphosa announced that a first step has just been taken, so that the African continent will be able to produce vaccines against Covid-19. South Africa has been chosen to host the first technology transfer center for messenger RNA Covid vaccines. Cyril Ramaphosa justified the creation of a regional capacity to produce these vaccines.
"We can see that we cannot count on vaccines manufactured outside Africa, because they never come," said yesterday the President of South Africa, a country that alone accounts for 35% of Covid cases in Africa. Cyril Ramaphosa pleads for a temporary lifting of intellectual property rights, and denounces the inequalities in access to vaccines against Covid-19, between developed and developing countries.
This newly announced technology transfer center, to be based in South Africa, is intended to address this problem. It is supported by a South African consortium of biotechnology companies, a network of universities and African disease control centers. These centers provide know-how and training to local manufacturers. This is a first step, but it will take a little longer for the project to become a reality… and for vaccines to be produced in South Africa. From 9 to 12 months, if everything goes according to plan, according to the chief scientist of the WHO.
The Director General of the World Health Organization, Tedros Ghebreyesus, sees the announcement of this center as "very good news for Africa", while specifying that in the short term, "we must do everything possible to increase the production and equitable distribution of vaccines through Covax".