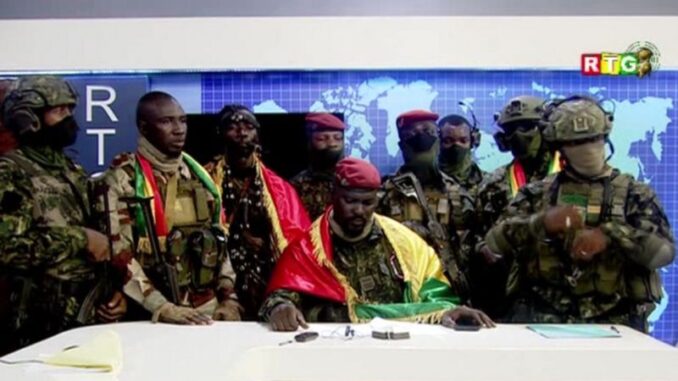 Guinean President Alpha Conde was overthrown Sunday by the military after nearly 11 years in power. The perpetrators of the putsch, who call themselves the National Committee for Rally and Development (CNRD), cited various evils which, according to a spokesman, led the army to "take responsibility.
In a video broadcast on RTG, the national television station, the CNRD spokesman deplored, among other things, the socio-economic situation of the country, the "dysfunction of republican institutions," the instrumentalization of justice, the "trampling of citizens' rights," "mismanagement," as well as "endemic poverty and corruption.
The putsch was allegedly carried out by an elite unit led by a former French legionnaire, Mamady Doumbouya. Like the junta that took power last year in Mali, the CNRD immediately announced the dissolution of all Guinea's institutions.
Not enough to reassure African institutions. First and foremost, the African Union. The pan-African institution has issued a statement on the situation signed by the AU's current chairperson, Congolese head of state Felix Tshisekedi, and Commission chairperson Moussa Faki Mahamat. The two leaders condemned any seizure of power by force and called for the immediate release of Alpha Conde. They also called on the Peace and Security Council to meet urgently to review the situation and take appropriate action.
ECOWAS, for its part, in a communiqué signed by the current President, Ghanaian Head of State Nana Akufo-Ado, expressed its great concern and condemned "this coup attempt. It demands a return to constitutional order and the release of President Conde.
France also reacted strongly. Paris "joins the call of the Economic Community of West African States to condemn the attempted seizure of power by force" on Sunday and "call for a return to constitutional order," wrote the deputy spokesman of the Quai d'Orsay.
For former U.S. special envoy for the Sahel Peter Pham, "The putsch against President Alpha Conde is disturbing. "I am personally following the situation in Guinea very closely. I strongly condemn any seizure of power by force of arms and call for the immediate release of President Alpha Conde," reacted UN Secretary General António Guterres on his Twitter account.
In the evening, the military junta announced on the television news a nationwide curfew "starting at 8 p.m.," the replacement of government members by the secretaries general of each ministry to handle current affairs, and the replacement of prefects, sub-prefects, and regional governors by the military.
In addition, they "call on civil servants to return to work on Monday" and summon outgoing ministers and presidents of institutions to a meeting on Monday at 11:00 a.m. (local time and GMT), under penalty of being considered in "rebellion against the CNRD.