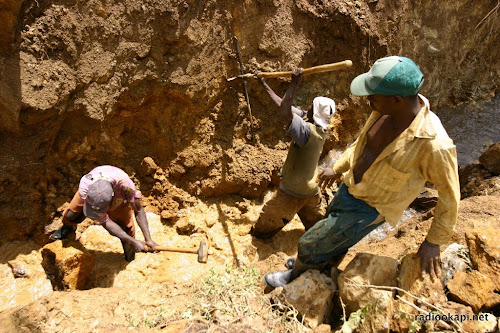 Seven miners are dead and five are missing after an artisanal gold mine collapsed in South Kivu province in eastern Democratic Republic of Congo.
"Seven artisanal gold diggers died and five others are missing in an earthquake that occurred on Monday at the Lukamba mine site in the Baliga groupement in Shabunda territory, said Cyrille Lualuba Bendera, president of the local civil society.
"The incident was caused by heavy rain that fell in the area," he said, adding that the landslide "caught the artisanal diggers in the middle of their work, while they were in a hole at least six meters deep.
Of the 13 people who were in the mine shaft, only one was found alive but "seriously injured. He was transported to a hospital," the source added.
The seven deceased diggers were "buried at the site of the accident on Monday. The search is continuing for the other five, dead or alive," Lualuba said.
The provincial authorities of South Kivu have refrained from commenting on the accident, although they claim to be aware of it.
Accidents in mines operated by artisanal miners are frequent and often very deadly, but largely under-documented given the extremely remote locations where they occur.