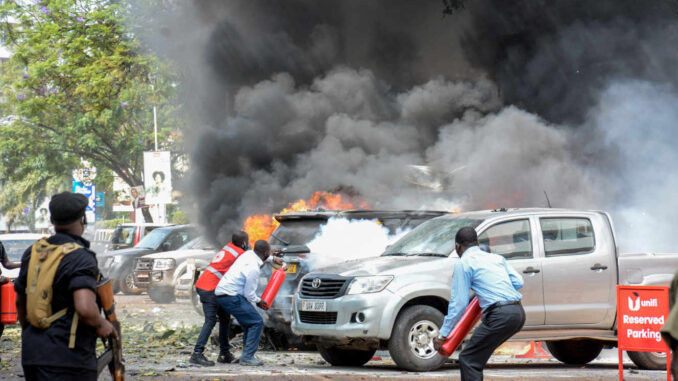 Air and artillery strikes in the DRC from Uganda on Tuesday targeted rebel positions of the Allied Democratic Forces (ADF), accused by Kinshasa of numerous civilian massacres and by Kampala of recent attacks on its soil claimed by the jihadist group Islamic State (EI).
These operations were announced in the morning almost simultaneously, by official sources, in both countries.
"As announced, the targeted and concerted actions with the Ugandan army started today with air strikes and artillery fire from Uganda on the positions of ADF terrorists in the DRC," the Congolese Minister of Communication and government spokesman, Patrick Muyaya, said on Twitter.
"This morning we launched joint air and artillery strikes against ADF camps with our Congolese allies," the Uganda People's Defence Force (UPDF) spokesperson also said on the social network.
An adviser to the DRC presidency on Sunday confirmed on condition of anonymity reports from diplomatic sources that President Felix Tshisekedi had allowed the Ugandan army to cross the border to fight the ADF rebels.
This authorisation is not welcomed by all Congolese, with some pointing to the role played by neighbours Uganda and Rwanda in the destabilisation of eastern DRC for almost 30 years.
During a regular briefing on the state of siege in two eastern provinces, the Congolese Minister of Communication assured on Monday that there were "no Ugandan troops" in the DRC, but that "targeted and concerted actions" were "envisaged with the Ugandan army to fight the ADF terrorists, our common enemy.