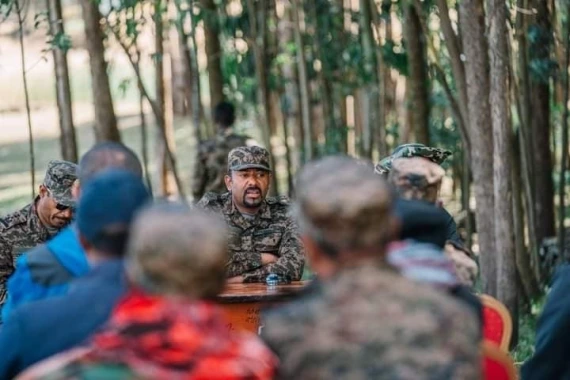 Prime Minister Abiy Ahmed announced that he had left the frontline and returned to Addis Ababa, after government forces claimed to have retaken several strategic towns from Tigrayan rebels over the past fortnight.
Gone are the images of Abiy Ahmed in uniform alongside the military at the front. These images have been regularly broadcast by the state media for the past two weeks. This week, the Ethiopian Prime Minister announced that he had returned to his office and thus resumed the management of "current affairs" that he had entrusted to his deputy prime minister.
A way to punctuate the counter-offensive that has allowed government forces to regain ground against the Tigrayan forces. They recently claimed to have retaken the strategic towns of Dessie and Kombolcha, as well as the highly symbolic site of Lalibela.
This is only "the first phase". "The battle is not yet decided," the Prime Minister said in a statement, while the TPLF, through its political leader, denied that the government was regaining the military advantage, claiming that the army had only retaken areas abandoned by the rebels during a strategic withdrawal.
In any case, to mark his return to the Ethiopian capital, to show that the threat to him has receded, and to recall the role of Ethiopia at the regional level, Abiy Ahmed multiplied these last 24 hours the telephone exchanges with his neighbours: Kenyan, Djiboutian Somali or Ugandan. He also spoke with the head of the United Nations. He also spoke with the head of the United Nations and did not fail to echo this on his twitter account.